Apparel Stores bring discount offers on summer items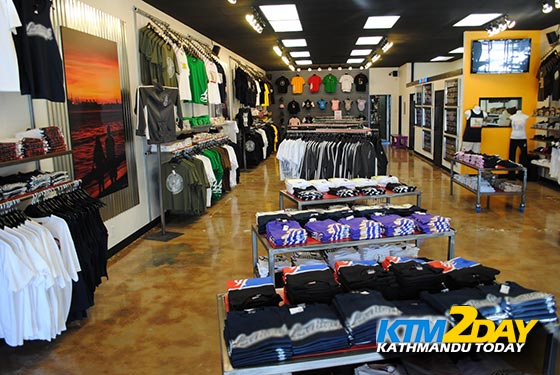 For apparel stores, the monsoon is the dry season, so many branded stores in the Kathmandu valley have launched discount offers to clear summer items and give a fillip to sales.
Global brands like Adidas, United Colours of Benetton, Springwood and Monte Carlo, among others, have been running various discount offers in a bid to lure customers.
Traders said they hoped such schemes would ease the usual slowdown in sales during the rainy season. Bala Gurung, head of garment at Surya Nepal which manufactures Springwood clothing, said they intended to clear all the stocks to launch new products for the coming festive season.
He added that changing fashions also compelled them to get rid of old stocks.
"It's a lifecycle for apparel shops that fashion trends change every two to three months, so we have to sell all the stocks within a short period of time," he said. "And the monsoon offer helps us to sell our products rapidly."
Surya Nepal has rolled out its monsoon offer entitled "Monsoon bonanza, 40 percent off" under which customers purchasing one piece of clothing will get a 40 percent discount on other garments like shirts, T-shirts, trousers and jeans.
Similarly, United Colours of Benetton has been offering discounts of up to 50 percent to brighten up its end of season sale. Adidas also offers a flat 40 percent off on its clothing items.
Vijay Kumar Manandhar, president of the Trade Association of Civil Mall, said that the shopping centre launched its monsoon scheme as footfall had dropped by half. Under the plan, customers buying clothing worth more than Rs 1,000 will get a discount coupon.
Meanwhile, Sachin Khanal, store manager of Store One, a multi-brand clothing store, said they were planning to launch a monsoon sale soon. "Sales are down 30 percent this month as the rainy season has put off customers," he said. He added that July- August was a slow period every year.
Nishi Sharma, manager of the Monte Carlo showroom at Civil Mall, said, "An early monsoon sale has helped us to boost business." Monte Carlo's monsoon plan offers customers a 40 percent discount on ladies clothing and 30 percent on men's clothing. "We will be running the scheme for another two weeks with the expectation of a 30 percent rise in sales," added Sharma.