Apple iOS 13 comes with Improved Performance, Privacy and Dark Mode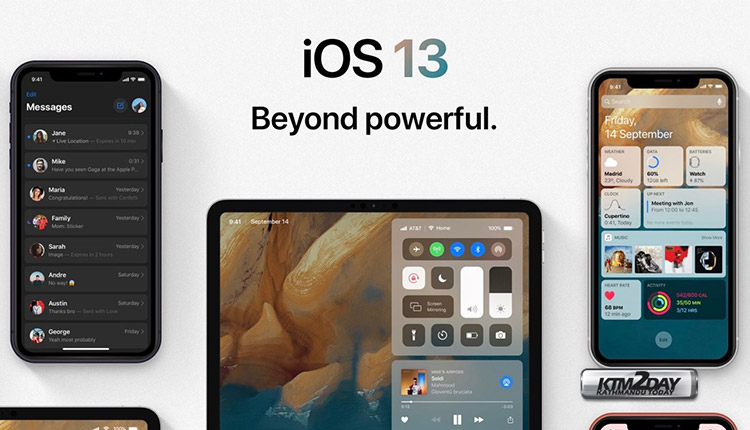 As expected, the official announcement of the mobile operating system Apple iOS 13 took place at the opening of the WWDC 2019 conference. According to Apple's senior vice president of software engineering Craig Federigi, this version will be "the next major release for iOS", offering various improvements.
Last year, with the release of iOS 12, Apple improved performance on older devices, which then literally found a second life. This year, Apple also paid particular attention to performance issues. In particular, unlocking a smartphone using the Face ID function in iOS 13 is 30% faster, and applications run 2 times faster.
One of the most noticeable visual changes was the introduction of a dark mode throughout the system. Dark theme is available for all major Apple applications, as well as for notifications and dock.

Apple updated the keyboard application to add input support by continuously sliding your finger across the on-screen keys. The Reminders application has also been updated, for which the Today, Scheduled, Marked and All task sorting filters have been added. Thanks to the introduction of AI functions, the application will offer options as you type.
iOS 13 will also receive new versions of a number of other basic applications. In particular, Mail offers new desktop formatting, Safari has preferences for each website, and Notes gets a new gallery view to view all notes at the same time. The Apple Maps application is completely reworked from scratch. It received more complete map data and a new mode, which is very similar to Google Street View.
Much attention is paid to privacy and confidentiality. Now you can transfer data about the location of the user to the application only once, and not for continuous tracking with each use. The new function Sign in with Apple allows you to authorize applications and services. At the same time, users will be able to log in using Face ID and create a new account for services that will not transmit any personal information. Apple accounts will be able to create new personal email addresses for each application that will forward messages to real email. Thanks to this, applications will not be able to receive information about a real email address.
iOS 13 will also receive images of profiles and displayed names, which can be shared with other users via Messages. Similar features are in WhatsApp and Facebook Messenger. Of course, you can use memoji as a profile image. Memoji itself can be further flexibly configured.
The new version of the operating system significantly improved functions for editing content. The photo editing section has received a new interface and the ability to edit video for the first time. Users can change the brightness and contrast, adjust the light and dark areas, change the saturation, white balance, sharpness, apply noise reduction and vignetting. When editing video, the ability to rotate directly on the device is available. The new Photos interface is also available in the Photos application. The application itself has received support for machine learning to remove duplicates and restore order in the gallery.