Apple Watch Series 5 : Health Monitor with Always On Display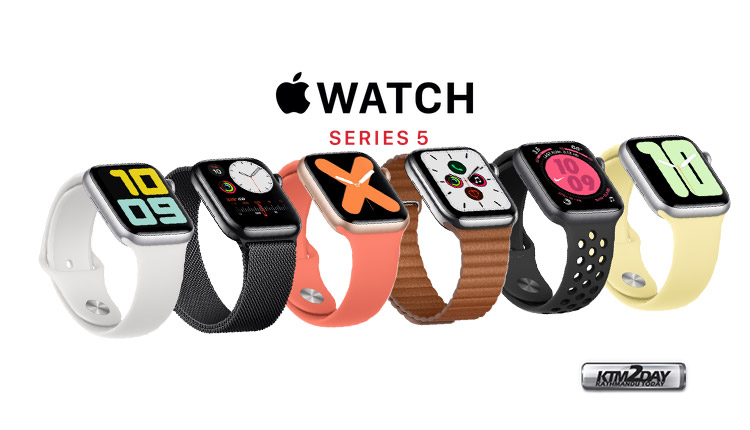 The Apple Watch Series 5 is official with the best of both worlds. We have a smart watch with a unique quality for iPhones and we have a "Always On" screen for the first time. That is, it will always be on even when you are not looking at it.
This feature was one of the most requested ever. Apple has finally listened to users and found a way to give us all the features of Apple Watch.
Reportedly, the new watch comes with upgraded hardware specs, which for some may be important. The flash memory of the watch has now been doubled to 32 GB.
Given that Apple smart watches are becoming more and more "independent" from a smartphone, additional memory will not be superfluous.
On the other hand battery capacity of the new Watch Series 5 remains unchanged but still users can count on close to 1 day of battery backup, even with the new feature "always on" display.
The new watchfaces have also been redesigned to take advantage of this new screen feature. It will stay dim until you move your wrist, and will change to full brightness.
The Apple Watch Series 5 repeats the design seen last year in series 4, with reduced frames compared to previous models. The device is constructed of aluminum (100% recycled), steel and titanium, depending on the model. Similarly, it boasts two different sizes, 40mm and 44mm.
It is powered by Apple's new 64-bit dual-core S5 processor, said to be up to 2 times faster than the S3 processor. The W3 wireless chip provides connectivity. There is 32GB of storage on the smartwatch.
The 44mm display has a resolution of 368×448 pixels, while the 40mm display has a resolution of 324×394 pixels. Both provide a 30 percent larger display compared to the Apple Watch Series 3, Apple says.
At the security level, the Apple Watch Series 5 once again opts for facilities when communicating with emergency services. Apple boasts an international emergency call service , which is capable of being activated when the watch detects that we have suffered some kind of accident, without the need for intervention.
Apple Watch Series 5 features an electrical heart rate sensor (that powers the ECG app), a second generation optical sensor, a built-in compass (powering the new Compass app), a barometric altimeter, an accelerometer, ambient light sensor, fall detection, as well as International Emergency Calling and Emergency SOS. Connectivity options include Wi-Fi 802.11 b/g/n, Bluetooth v5.0, and GPS/ GLONASS/ Galileo/ QZSS.
As for the important battery life statistic, Apple says the Apple Watch Series 5 delivers up to 18 hours of battery life – which means you still need to charge it at the end of the day.
Apple Watch Series 5 Specification
| Specs | APPLE WATCH SERIES 5 |
| --- | --- |
| Box sizes | 40 mm / 44 mm |
| screen | 384 x 480 pixels |
| Connectivity | Wi-Fi, Bluetooth 5.0, NFC, LTE (optional) |
| Waterproof | Yes |
| Capacity | 32 GB |
| materials | Aluminum, stainless steel or titanium |
| Colors | Silver, space gray, gold, rose gold / Silver, black |
| Price | From $399 |
The new Apple Watch will be available in 100% recyclable aluminum in titanium finish. However, you can choose between this one, and the ceramic and steel versions.
Also inside, you can count on bar functionality, as well as emergency calls to international countries.
The new Apple Watch Series 5 will be available for pre-order right after the keynote presentation and is scheduled to arrive on September 20. Apple also announced that the Apple Watch Series 3 has fallen in price to $199.
In the US, the Apple Watch Series 5 (GPS) starts at $399 and Apple Watch Series 5 (GPS + Cellular) starts at $499.