Auto sales driven downhill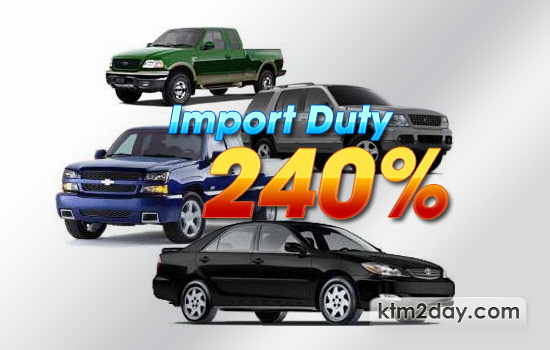 As the government has imposed one of the world's highest import duties — 240 per cent — on automobiles, it is no wonder that Nepal's auto industry is suffering from a terrible decline in sales. Two other reasons behind deceleration of auto transactions are difficulty in accessing auto loans and high interest rates on available ones. This has resulted in a slump in the registration of vehicles in the country. Compared to the first five months of previous fiscal year, Bagmati zone — the country's largest automobile market — witnessed a decline in vehicle registration by 28.83 per cent and four-wheelers under car, jeep and van category by 26.16 per cent.
According to the Department of Transport Management (DoTM), vehicle registration in 2011 stood at 11,409 units in July-August, whereas registration during the same period last year was 15,742 units. Similarly, registration in August-September 2011 stood at 13,248 units, while it was 16,380 units in 2010. The registration on September-October 2011 and October-November 2011 stood at 18,203 units and 13,882 units, whereas the registration during the same time period the previous year was 14,157 units and 15,384 units respectively. Compared to the fiscal year 2010-11, this fiscal has experienced a slump in registrations of vehicles in the country by 7.98 per cent with around 56,742 vehicles as compared to 61,663 vehicles previous year. Out of total four-wheelers registered in the first four months of the fiscal year 2011/12, 2,948 units were registered under car, jeep and van category, which in comparison to the previous fiscal year was down by 130 units (4.22 per cent) from 3,079 units.
Within the first five months of this fiscal year, Bagmati zone has recorded registration of altogether 3,688 vehicles, which includes 2,740 four-wheelers; while the total vehicles registered during the same period last fiscal was 5,182, which included 3,711 four-wheelers. Bagmati zone alone acquires more than 60 per cent of the total auto registrations and sales in the country.
"Although the festive season generated some positive vibes in the auto market, it was not up to the mark when compared to the previous year," said Rupesh Sharma Bhatta, senior manager of business development and planning at Laxmi Intercontinental, authorised distributor of Hyundai vehicles for Nepal. Citing that the automobile market has experienced a fall of around 35 to 40 per cent, he said, "Price hike of automobiles due to the hefty excise duty and lack of confidence among bankers regarding auto loan are major reasons behind the long-standing setback in domestic automobile industry." According to him, the government needs to be flexible with the auto-mobile industry to get it back on track. Auto dealers reveal that the sales of hatchback models are facing a slump of over 30 per cent, while slump in sales of sedan and SUVs is almost 50 per cent when compared to last year.
Of late, the progressive strengthening of the US dollar and Japanese yen against Nepali currency has made imported four-wheelers — especially those from third countries — much dearer. Vehicles imported from third countries (other than India) have become more expensive by at least Rs 100,000 in the small car segment and by Rs 300,000 to Rs 2 million in case of sedans and SUVs. The strengthening of both the dollar and yen has added to the woes of domestic automobile dealers, who have been facing a slow-paced market in terms of sales for a couple of years now.
"With the hefty duty on auto-mobiles, the price of vehicles has shot up so much that the industry has been badly affected," said Shekhar Golchha, vice president of Nepal Automobile Dealers' Association (NADA). He blamed the government for targeting automobile sector as a major source of revenue and banks being hesitant to sanction auto loans. "The government should provide some tax rebate on automobiles to revive it to normalcy," he urged. (Source:THT)