Bajaj Nepal brings festive offer "Pocket Full"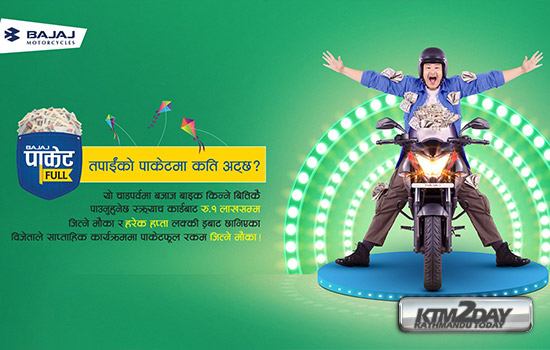 Hansraj Hulaschand and Co, the official distributor of Bajaj in Nepal, is bringing a never-seen-before festive campaign 'Pocket Full' for the customers on the auspicious occasion of Dashain and Tihar.
Bajaj's festive campaign, 'Pocket Full' gives customers a chance to win pocket full of cash with the purchase of any Bajaj motorcycle, as per a media release.
By purchasing any Bajaj motorcycle, customers get a scratch card, with which they can get up to 100,000 cash discount at the time of purchase. The scratch card also has a weekly 'Pocket Full' lucky draw coupon code.
Throughout the campaign, every week one lucky winner will be announced through the lucky draw, who will get a chance to get their pocket full of cash. The weekly Pocket Full programme will also be broadcast on television every week.
In the programme, the lucky winner will be given a particular time limit, in which they will have to put as much as cash coupon as they can inside their pocket, and the cash worth all the cash coupons that the winner has successfully kept in their pockets will be given to the winner.