Bangladesh set to open new rail links to Nepal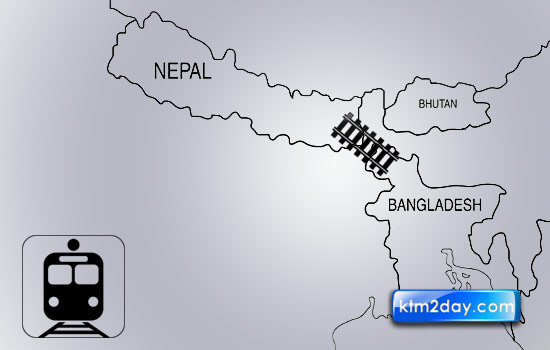 Bangladesh has decided to open Chilahati-Haldibari rail link by this year end for easier connectivity with Nepal and Bhutan.
The route is likely to be the fifth route agreed upon as transit points between these two neighbouring countries.
According to a Indian Railway Board official, Jogbani station in India is located only 40-km away from Haldibari and about 52-km away from Bangladesh's Chilahati. "The proposed rail link could facilitate passengers from Jogbani bordering Nepal to pass through New Jalpaiguri and Katihar route as well," he added.
Similarly, Hashimara station in India is hardly 182-km away from Bangladesh's Chilahati station. Incidentally, Hashimara station is located
on Bhutan border as well and passengers can reach Hashimara in about three hours through the proposed Chilahati-Haldibari route.
Incidentally, the two countries already have four other railway transit points between them: Rahanpur (Chapainawabganj)-Singhabad, Birol (Dinajpur)-Radhikapur, Darsana (Kushtia)-Gede and Kulaura (Moulvibazar)-Mahishashan.
Low connectivity among the neighbours in the South Asian Association for Regional Cooperation (SAARC) region has been blamed for less trading among them. "Intra regional trade in the regional stands at below five per cent of the total regional trade," according to the World Bank study that has suggested increasing connectivity to increase intra-regional trade for the larger interest of the region.
The opening of the rail link between Chilahati and Haldibari will be a revival of old rail link that was operational till 1965. The transit route connecting India and Bangladesh was abandoned following the Indo-Pak war in 1965.
According to the officials, Indian railway ministry has asked the Bangladesh rail authority to provide a detailed plan so that the new rail link could be thrown open in the larger interest of people of both the countries.
"Indian Railways has also sought the time frame in which Bangladesh wants to complete the work of opening the new rail link with India," he said.
Bangladesh railways will have to construct about 7.5-km new rail lines from Chilahati to reach the border while Indian Railways will have to build 4.5-km new track from its border to Haldibari station.
Earlier last year, both the countries had inked a pact during Bangladesh Prime Minister Sheikh Hasina's visit to Indian for opening new rail links with Bangladesh for cultural exchange and various activities between the two countries, sources said, adding that the railways will further link with Nepal and Bhutan.
Though the joint declaration between the two countries did not mention this particular route, they later realised that opening of this route would facilitate movement of people from both the countries as well trade and commerce, sources said, adding that the proposed route would also revive easy regional connectivity among members of the SAARC.        (Source:THT)