Ford Cars Price in Nepal 2023 (Aug-Sept)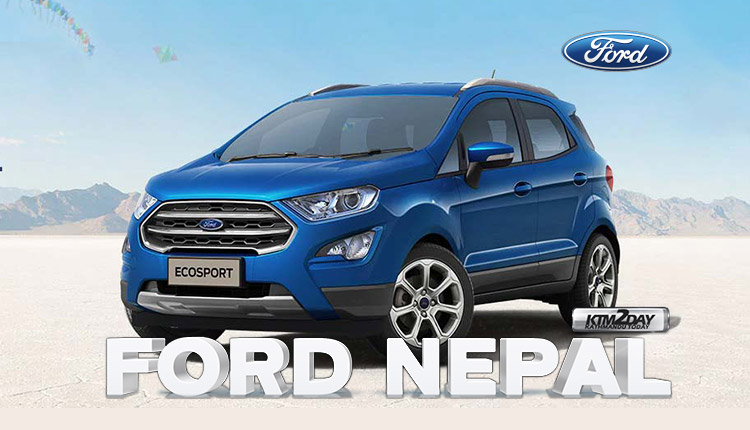 Ford Motor Company is a multinational automaker that has its main headquarter in Dearborn, Michigan, a suburb of Detroit. It was founded by Henry Ford and incorporated on June 16, 1903. The company sells automobiles and commercial vehicles under the Ford brand and most luxury cars under the Lincoln brand.
Ford also owns Brazilian SUV manufacturer Troller, an 8% stake in Aston Martin of the United Kingdom and a 32% stake in Jiangling Motors. It also has joint-ventures in China (Changan Ford), Taiwan (Ford Lio Ho), Thailand (AutoAlliance Thailand), Turkey (Ford Otosan), and Russia (Ford Sollers).
Ford is the second-largest U.S.-based automaker (behind General Motors) and the fifth-largest in the world (behind Toyota, VW, Hyundai-Kia and General Motors) based on 2015 vehicle production. At the end of 2010, Ford was the fifth largest automaker in Europe.
Go Automobiles Pvt. Ltd. is the sole authorized dealer for Ford Automobiles in Nepal and is located in Thapathali, Kathmandu. Contact – 4244254 | 4257001
Ford Cars Price in Nepal
Ford Car Prices in Nepal 2023
Ford Car Prices in Nepal - Updated on January 2023
Image
Details
Price NRs
Ford EcoSport 2021
@2020 Price
Variant: Petrol/Diesel
Manual-Automatic
999cc-1499cc
Mileage: 17-19kmpl

Ford EcoSport Petrol Variants:
1.5L AMBIENTE : Rs.36,90,000
1.5L TREND : Rs.39,90,000
1.5L TITANIUM : Rs. 44,50,000
1.5L PETROL TITANIUM + SE : Rs. 47,50,000
1.5L TITANIUM + SPORTS M/T : Rs. 48,90,000
1.5L TITANIUM+ A/T : Rs. 50,90,000
Ford EcoSport Diesel Variants:
1.5L DIESEL AMBIENTE : Rs. 39,99,000
1.5L DIESEL TREND : Rs. 43,99,000
1.5L DIESEL TITANIUM : Rs. 49,40,000
1.5L TITANIUM + SPORTS : Rs.56,99,000
Ford Figo 2019
Engine Displacement - 1194cc / 1498cc / 1497cc
Fuel Type - Petrol/Diesel
Transmission - Manual / Automatic
Maximum Power - 96 / 100 / 123
Mileage - 20-25 kmpl
Seating Capacity - 5
Dimension - 3941mm(L)X1704mm(W)X1525(H)
Fuel tank capacity (litres) - 40

Ford Figo Petrol Variants:
1.2L PETROL Ambiente : Rs. 25,49,000
1.2L PETROL TITANIUM M/T : Rs. 30,99,000
1.5L PETROL TITANIUM A/T : Rs. 33,99,000
Ford Figo Diesel Variants:
1.5L DIESEL Ambiente : Rs. 28,49,000
1.5L DIESEL TITANIUM : Rs. 34,99,000
Ford Figo Aspire
Variant: Petrol/Diesel
Manual / Automatic
1495cc – 1499cc
Mileage : 17-25kmpl

Ford Aspire Petrol Variants:
1.2L PETROL TREND+ M/T : Rs. 31,99,000
1.2L PETROL TITANIUM M/T : Rs. 33,49,000


Ford Aspire Diesel Variants:
1.5L DIESEL TREND+ : Rs. 33,49,000
1.5L DIESEL TITANIUM : Rs. 35,49,000
Ford All New Freestyle 2019
Variant: Petrol/Diesel
Manual / Automatic
1194cc – 1499cc
Mileage : 19-25kmpl


Ford Freestyle Petrol Variants :
1.2L PETROL TREND + : Rs.31,49,000
1.2L PETROL TITANIUM M/T : Rs. 34,90,000
1.2L PETROL TITANIUM+ M/T : Rs. 36,50,000
Ford Freestyle Diesel Variants :
1.5L DIESEL TREND+ : Rs. 33,49,000
1.5L DIESEL TITANIUM : Rs. 37,49,000
Ford Ranger
Variant:Petrol
Manual
2198cc-3189cc
Mileage : 10-18kmpl

3.2L XL A/T - Rs.96,90,000
Raptor 2.0L A/T (Diesel) - Rs.1,59,00,000
3.2L DIESEL XL M/T - Rs.83,00,000
3.2L DIESEL XLT A/T - Rs.1,09,90,000
Ford Ranger Raptor
Engine Displacement - 3496 cc
Max. Power - 450 HP @ 5000 rpm
Max. Torque -691.5 Nm @ 3500 rpm
Gearbox -10-Speed Automatic Gearbox
Top Speed (KMPH)-175+ KMPH
Ground Clearance-280 mm

1.59 Crore
Ford Endeavour
2.0L TITANIUM +A/T (Diesel)
4X4
1,59,00,000
Ford Endeavour
2.0L TITANIUM A/T (Diesel)
4X4
1,45,00,000
Ford Mustang
Variant: Petrol
Manual / Automatic
4951cc
Fuel Tank : 61 Ltr.
Mileage : 7.50 kmpl
1.69 Crore
Ford Focus
Petrol
Manual
1600cc
Mileage : 18kmpl

Price : 62-67 Lakhs
Ford Kuga Titanium
Petrol
Automatic
1597cc

Price : 90 Lakh
Ford Fiesta
Manual,Diesel
1498cc
Mileage : 24kmpl

Price: 35-43 Lakh
Ford Classic
Variant:Petrol,Diesel
1399cc-1596cc
Mileage:15-18 kmpl
Price: 24-34 Lakh
Contact:
GO Automobiles Pvt. Ltd.
Thapathali, Kathmandu
[email protected]
+977-1-4257001/4244254
+977-1-4267783
10 am to 6 pm (Sunday to Friday)