Gautam Buddha International Airport is unlikely to begin operation by March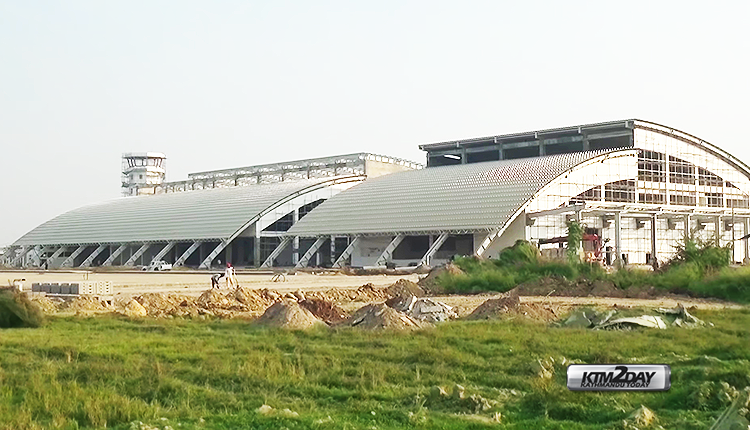 As previously planned, the Gautam Buddha International Airport (GBIA) is unlikely to begin operation by March as the project is yet to install equipment necessary for the operation of the airport.
Though the project has acquired 85.5% physical progress under international competitive bidding (ICB)-01 and approximately 50% progress rate for ICB-02, the communication, navigation and surveillance/air traffic management (CNS/ATM), and meteorological equipment necessary for the operation of the airport are yet to be installed. Prabesh Adhikari, the project chief of GBIA said that the work of phase II has already started and the foundation for installation of equipment are being prepared.
The outbreak of coronavirus in China will have an impact on the arrival of the technical team needed to install the necessary equipment. "If the suspension of flights to and from China continues for a long time, the team we are expecting for some ICB-02 works will arrive late," said Adhikari.
The construction work of the project has been categorized into two packages- (ICB)- 01 and ICB- 02. Construction of airside and landside infrastructures and other facilities at GBIA falls under ICB- 01. Supply, delivery, installation and commissioning of equipment and other related goods and services for GBIA have been tasked under ICB- 02. According to Pradeep Adhikari, the National Pride Project head, the construction of runway, taxiway and apron have been completed whereas construction of the terminal building and control tower, installation and finishing works are in progress.
Located 20 kilometers away from Lumbini, a popular tourist destination for Buddhists, the operation of the international airport is expected to cater to religious tourist and increase the inflow of international tourist to Nepal. The government has already announced that it will provide incentives to international airlines willing to operate at GBIA.
The deadline of the project was extended to March 31, 2020, after it failed to complete the construction work by December 2019. The project was originally scheduled to be completed in December 2017.