Huawei launches MateBook 13 and 14 with AMD Ryzen and MateBook X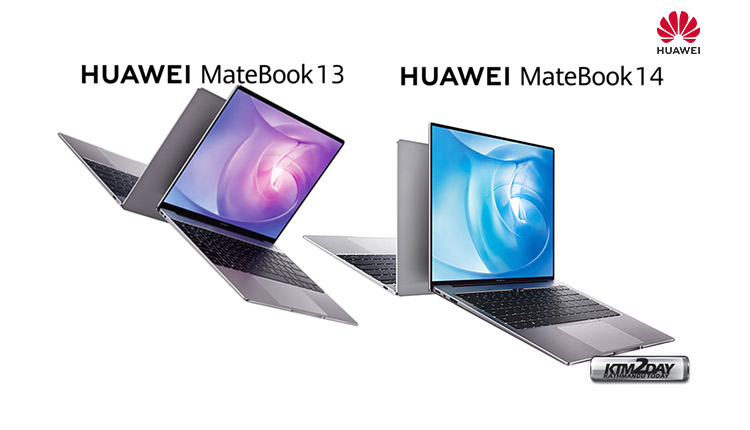 Huawei announced three new notebooks on Wednesday, August 19 in the Chinese market. The newly launched models are MateBook 13 and 14 with AMD Ryzen, and MateBook X with 10th generation Intel Core processors , all with up to 16 GB RAM and 512 GB storage. Prices start at 4,599 yuan (about Rs 79,800  in direct conversion) in China.
Huawei MateBook 13 and 14 have AMD Ryzen processors
Huawei's new notebooks has been launched with two screen sizes: 13 and 14 inches. In both cases, the display has thin bezels and 2K resolution, with the right to an edition with touchscreen enabled. The panels are capable of covering 100% of the sRGB color range.
With three versions each, the new notebooks feature AMD Ryzen 5 4600H or Ryzen 7 4800H processors, 16GB of RAM and 512GB of SSD storage, in addition to offering versions with a screen with or without a touch screen (which, obviously, will impact the final price ).
Huawei states that the weight varies between 1.3kg and 1.49kg for the two models, in addition to having a thickness between 14.9mm and 15.9mm, for the smallest 13 inch version and the largest 14 inch version respectively.
Sales of notebooks begin this Wednesday (Aug 19), in China, but not all models will be available at this first phase. Check out the suggested prices:
MateBook 13 (Ryzen 5): 4,599 yuan, $665
MateBook 13 (Ryzen 7): 5,099 yuan, $740
MateBook 13 (Ryzen 7 with touchscreen): 5,399 yuan, $780
MateBook 14 (Ryzen 5) : 4,999 yuan, $722
MateBook 14 (Ryzen 7) : 5,299 yuan, $766
MateBook 14 (Ryzen 7 with touchscreen): 5,699 yuan, $825
So far there is no information about launch of Huawei MateBook 13 and Huawei MateBook 14 in other global markets.
Huawei MateBook X: Intel processor and up to 16 GB of RAM
The Huawei MateBook X draws attention by the 13-inch LCD screen with 3K resolution (3000 x 2000 pixels), also with reduced bezels  and 100% coverage of the sRGB color space and is touch sensitive. The display still has a brightness of 400 nits, a contrast ratio of 1500: 1 and a viewing angle of 178º.
Another highlight of the launch is the touchpad, which is able to identify when the user presses the trackpad harder during use, a feature present in MacBooks with Force Touch . The notebook also features a fingerprint reader, NFC , Bluetooth 5.0 two USB-C ports and a 42 WHr battery with 65 watts fast charging.
The notebook is available in three editions, all with a 512 GB SSD . The first brings the Intel Core i5-1021U processor and 8 GB RAM. The second option also comes with an Intel chip, but features double the memory i.e., 16 GB. Finally, the third option is the most advanced, with Intel Core i7-1051U and 16 GB of RAM.
The Huawei MateBook X has its debut in China scheduled for August 24. The models with Intel Core i5 with 8 GB and 16 GB will be on sale for 7,999 yuan and 8,999 yuan, respectively, equivalent to about $ 1156 and $ 1300 in direct conversion. The Core i7 edition will hit stores for 9,999 yuan (about $ 1445).
All variants will be launched in Frost Silver, Interstellar Blue, Green Mountain Daisy, and Cherry Blossom Powder, although not all of them will be available at launch.
So far there is no information about its launch in other markets, but it is expected that this will happen soon.