LG 27 Inch UltraFine 5K IPS Monitor Launched with seamless MacOS support
The MD5KL-B UltraFine 5K, a 27-inch display from LG Electronics' business solutions division, is a new, powerful monitor optimized for Apple hardware. If you own a Macintosh laptop, desktop computer, or iPad Pro, the 27 inch MD5KL-B model is the best monitor you can buy.
Improve productivity and experience robust performance with LG's UltraFineTM display, which boasts a resolution of 5120×2880.
Also Read : LG TV Price In Nepal (4K UHD, Full HD , HD)
Thanks to its modern connectivity choices like ThunderboltTM 3 and USB Type-CTM connectors, it is able to send and receive 5K video, music, and data all at once, and it can charge a device with up to 94W using a single cable1.
As such, it equips its customers with everything they need to set up a highly adaptable Macintosh desktop.
With its IPS panel, astonishing 5K resolution, and 16:9 aspect ratio, it displays accurate colors and prevents picture distortion even at extreme viewing angles.
Screen luminance is well over 500 nits, and the contrast ratio of 1100:1 makes both dark shades of black and light shades of white look crisp and clear.
Because it is compatible with macOS Mojave 10.14.6 and iOS 12.4, the MacBook Pro's Touch Bar and keyboard may be used for fine-grained control of display settings including brightness and volume.
When connected to a Mac, the display's built-in light sensor will change the screen's brightness accordingly.
Enjoy a full range of multimedia with the built-in stereo speakers, camera, and microphone.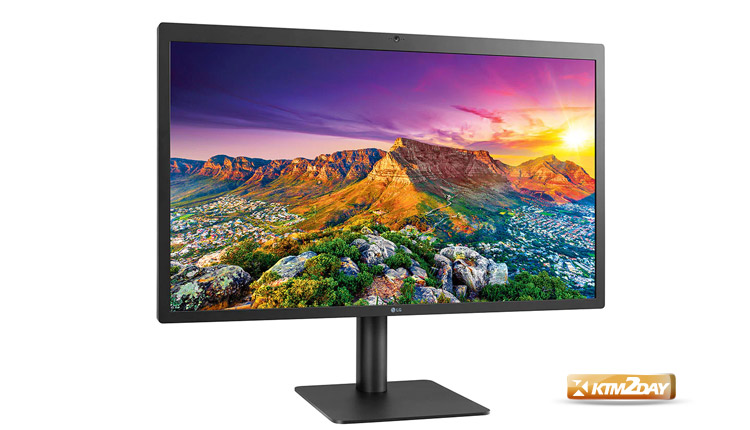 LG's UltraFineTM 5K Display is ideal for professional applications like picture and movie editing as well as entertainment and everyday uses like viewing movies, making FaceTime calls, and online chatting.
LG stands by their monitors for three years and offers a no-pixel guarantee. The monitor can be purchased for $1299 in LG Stores.