LG unveils hi-tech mask to stay safe against COVID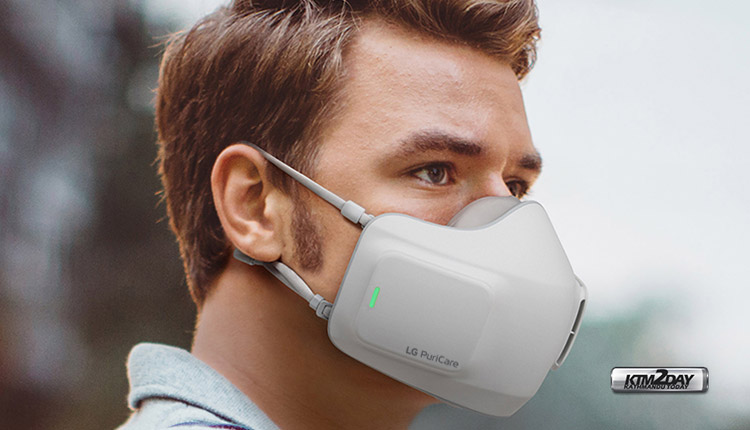 LG Electronics just introduced PuriCare Wearable Air Purifier. The Korean company has long been promoting an approach to healthy living that has led to the creation of a whole new technological category of wearable air purifiers. LG PuriCare Wearable Air Purifier will be available from the fourth quarter onwards in selected markets.
LG PuriCare Wearable Air Purifier solves the problem of poor quality of some DIY masks and the difficulty of finding disposable masks. It uses two H13 HEPA filters similar to those used in LG products for home air purification. And so it allows to have fresh and clean air both indoors and outdoors.
Thanks to the patented dual ventilator and respiratory sensor, LG's wearable air purifier allows you to breathe clean, filtered air, while the respiratory sensor detects the wearer's breathing cycle and volume and adjusts the dual three-speed ventilator accordingly. The fans automatically accelerate to assist air intake and slow down to reduce resistance during exhalation and make breathing more fluid.
Ergonomically designed to fit the shape of the face, LG PuriCare Wearable minimizes air leakage around the nose and chin and can be worn comfortably for several consecutive hours. The 820 mAh battery provides up to eight hours of operation in low mode and two hours in high mode.
In addition, LG's innovative solution is equipped with a case that helps maintain proper hygiene between uses. Equipped with UV LEDs to eliminate harmful germs, the case can also charge the unit and notify the LG ThinQ mobile application when the filters need to be replaced. And because every component of LG PuriCare Wearable – from filters to earbands – is replaceable, it's also an environmentally responsible solution.