NEPSE sets new record, crosses 3100 points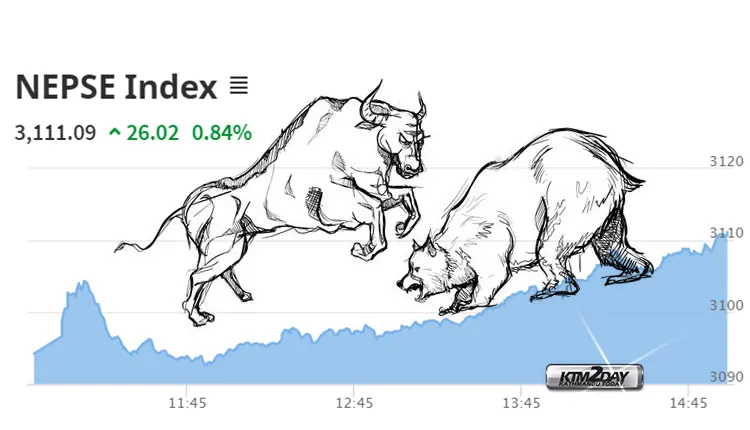 The stock market index Nepse set a new record on Tuesday. On this day, the market has crossed the barrier and scaled to a new height of 3,111 points. The score is record high.
On this day, the index has increased by 26 points. Shares worth Rs 11.52 billion have been traded during the day.
In terms of category. the banking group rose by 2 points, finance by 10 points, hotel and tourism by 12 points, hydropower by 66 points, life insurance by 119 points, manufacturing by 41 points, microfinance by 221 points, non-life insurance by 60 points, others by 25 points and business group by 101 points.
Development Bank Group, on the other hand, declined by two points. A total of 131 companies rose while 47 declined. The value of 7 companies has remained stable.
Prices of Panchthar Power Company, Ruru Hydropower, Jeevan Vikas Microfinance, Ghalemdi Hydro, Union Life Insurance, Liberty Energy and Swavalamban Microfinance have risen by about 10 percent.
Prices of Green Life Hydro, Api Power and CEDB Hydro rose by 8 percent. On this day, the price of Unilever Nepal has dropped the most by 3.7 percent. The value of other declining companies remained below 2 percent.
Api Power had the highest turnover of Rs 460 million while Ngadi Group Power had the highest turnover of Rs 430 million.