Peugeot 3008 SUV launched in Nepal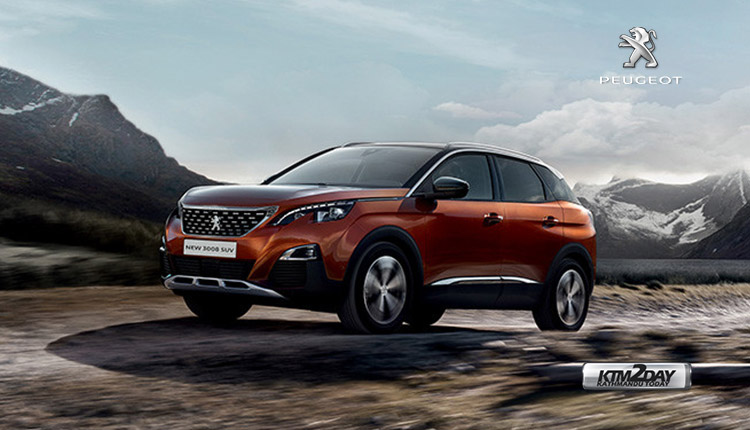 Shangrila Motors Pvt Ltd, the authorized distributor of Peugeot in Nepal has brought 2017 award winning SUV – Peugeot 3008 SUV – to the Nepali market. Lokmanya Golchha from Golchha Organisation launched it at an event held at Hyatt Regency Kathmandu on December 20. After the launch, Anne Sophie Achard from Peugeot – France talked about the new launch, she said, "I can assure you that this car will deliver on its promise of great performance."
The all-new Peugeot 3008 SUV has won various international awards, including the prestigious European Car of the Year Award 2017. According to the company, its GT Line version offers a choice of efficient engines: BlueHDi diesel, e-THP petrol and multi award-winning PureTech three-cylinder petrol engines "making the all-new 3008 SUV GT Line one of the most efficient SUVs in its category".
BlueHDi engine system complies with Euro 6 emission standards, to deliver exceptional fuel economy and CO2 emissions alongside a driving experience rich in power and performance. It delivers maximum power of 165hp at 6,000 rpm and maximum torque of 240 Nm at 1,400 rpm.
The Peugeot 3008 boasts an advanced infotainment system that includes 3D satellite navigation. Linked to the 8.0 capacitive colour touch-screen, the system includes European mapping, 3D city mapping and voice recognition (for radio, navigation and telephone functions).
It also features a charging plate, inductive charging technology that can be charged wirelessly whilst on the move; premium Hi-Fi system from FOCAL; 180-degree reversing camera; enhanced park assist system; smart electric tailgate technology and 3D-effect LED claw lights at the rear of the vehicle.
To ensure comfort and safety, the SUV offers standard features and safety equipment including safety plus pack comprising active blind spot detection (ABSD), active lane keeping assistance (LKA), advanced driver attention alert system (DAA3) and Peugeot smartbeam assistance.
The new Peugeot 3008 comes in two variants – GT line and Allure.
Peugeot 3008 Price in Nepal
2019 Peugeot 3008 – Rs 1.30 Crore
2019 Peugeot 3008 Sports – Rs 1.29 Crore
2019 Peugeot 3008 Sports with Sunroof – Rs 1.24 Crore
2019 Peugeot 3008 Sports without sunroof – Rs 1.20 Crore
GT line  Sports – Rs 1,30,00,000
Allure –  Rs 1,13,00,000