PlayStation 5 VS Xbox Series X : Which ones right for you?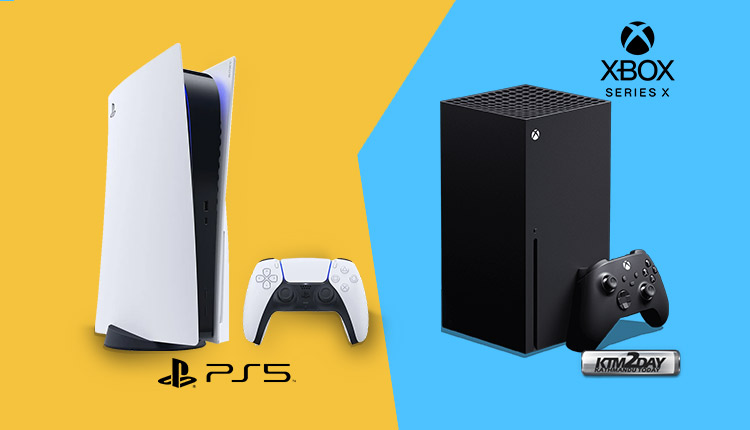 The new game consoles from Sony and Microsoft are expected to hit the market later this year during the holiday season – if production doesn't gets interrupted by the coronavirus (COVID-19) second or third wave. More and more Information are being gradually revealed about the support for wide variety of games for these two consoles. However, at this point we have all specifications of PlayStation 5 and Xbox X Series up for comparison below.
Specifications: PlayStation 5 and Xbox Series X
| | | |
| --- | --- | --- |
| Component | PlayStation 5 | Xbox Series X |
| Processor (CPU) | AMD with Zen 2 architecture, octa-core at up to 3.5 GHz | AMD with Zen 2 architecture, octa-core at 3.8 GHz |
| Graphics chip (GPU) | AMD with Radeon RDNA 2 architecture with 2.23 GHz frequency | AMD with Radeon RDNA 2 architecture clocked at 1.825 GHz |
| How many teraflops | 10.28 Tflops with 36 computing units | 12 Tflops with 52 computing units |
| RAM memory | 16 GB GDDR6 at 448 GB / s | 16 GB GDDR6 (10 GB to 560 GB / s and 6 GB to 336 GB / s) |
| Internal storage | 825 GB SSD | 1 TB SSD |
| Transmission speed | 5.5 GB / s (original size), 8 to 9 GB / s (with compression) | 2.4 GB / s (original size) or 4.8 GB / s (with compression) |
| Expandable storage | External USB hard drive or NVMe SSD (PCIe 4.0) with Sony validation | Optional 1TB card from Seagate or external hard drive via USB 3.2 |
| Optical drive | Blu-ray 4K UHD | Blu-Ray 4K UHD |
| Resolution | 4K at 120 Hz, with 8K support | 4K at 60 FPS, up to 120 FPS (8K resolution for videos) |
| Ray Tracing | Yes | Yes |
Tech specs
When it comes to the processor, the Xbox Series X is slightly more powerful than the PlayStation 5, though the difference is unlikely to have a large impact on the gaming experience.
The new Xbox's processor, also known as a CPU, can go up to marginally faster clock speeds at 3.8 Gigahertz compared to the PS5's 3.5 Gigahertz. But those are just the numbers, so it remains to be seen how that plays out in performance.
When it comes to the graphics, Microsoft appears to have the slight advantage — at first.
As an argument, Sony states that the PlayStation 5 processor will work with the  AMD RDNA 2 GPU at 2.23 GHz – at a variable frequency, according to the game's requirements. The 10.28 Teraflops are lower than the 12 teraflops of the Xbox Series X, but still the manufacturer promises an 8K resolution even in games , while this resolution, on the Microsoft console, is limited only while playing videos.
Both also embark on ray tracing technology, with hardware acceleration. The feature uses "lightning strokes" to create better light effects, it was already used in cinema, but the technical limitation prevented it from bringing technology to games.
The consoles will work with SSD to obtain higher speeds, although the PlayStation 5 has a smaller storage capacity, the transfer rate is more than twice the specifications of the SSD present in the Xbox Series X.
The Xbox Series X wins out on internal storage. Xbox has 1 terabyte of internal storage compared to PlayStation's 825 GB. Any gamer will tell you that running out of storage on a console can be a hassle. But both console makers have cloud gaming solutions now — PlayStation Now and Project xCloud — and if more players rely on the cloud, storage will become less important.
Sony does have one advantage. The PS5 can push through data at 5.5 GB per second, compared to the Xbox Series X, which works at 2.4GB per second. That could mean marginally faster load times, and less time spent on a loading screen.
Both consoles are evenly matched elsewhere. They each have 16 GB of memory and support 4K and 8K resolution gaming. And when it comes to the latest flashy technology, both Sony and Microsoft have worked to incorporate ray-tracing, a technology that makes light and shadow look better in-game, and offer 3D audio for more immersive sound.
While both consoles support 8K resolution gaming, most people don't own an 8K compatible television and most developers don't currently optimize games for 8K resolution. Sony and Microsoft built these consoles with 8K support to plan for the future. But the 8K TVs currently available are pricey, with a 55-inch Samsung model going for $2,499.
Everything may also depend on the catalog and online services of the two new consoles. Microsoft has been doing a good job with Game Pass Ultimate and Live Gold. But, it is Sony that has the desirable exclusives.
There is still no price or release date for both the PlayStation 5 and the Xbox Series X. Plans are to put both consoles on the market in late 2020.