Tata Nexon EV Dark Edition launched in Nepali market
Update : The Dark Edition of Tata Nexon EV has now been launched officially in Nepali market by Sipradi Trading, the authorised dealer of the brand.
The long awaited Dark Edition of Nexon EV is coming to Nepal next week. Sipradi Trading, the official distributor of Tata vehicles has officially announced that Dark Edition of Nexon EV is arriving in Nepal.
According to the company, for the last eight months, Sipradi has been urging the manufacturer Tata Motors to make the Dark Edition of Nexon EV available in Nepal.
Tata, which has been in high demand in India, has not been able to supply the car to Nepal for a long time. But now the company says that it is certain to come to Nepal in a weeks time.
Sipradi has informed that at least 14 to 17 vehicles will arrive in the first lot. After Tata confirmed to send this dark edition vehicle from India, Sipradi informed that all the vehicles coming in this lot have been booked.
Sipradi has stated that they are currently charging only Rs 25,000 for booking this vehicle. The company is currently booking only for the first lot. The booked vehicles will enter Nepal within a week to 10 days, said Sipradi.
Currently, only black, white and other versions of Tata Nexon Ev are available in Nepal. The starting price of these vehicles is Rs 35.99 Lakh. However, the company has not set a price for the upcoming Dark Edition.
The Tata Nexon EV is available in three models (XM, XZ Plus and XZ Plus Lux). The company has sold more than 600 units of Nexon and Tigor EV in Nepal.
The Dark Edition has a 30.2 kWh battery and a 95 kWh motor with the same capacity as the previous model.
According to ARAI, this EV has a range of 312 kilometers on a full charge. But Nexon EV is providing an average range of 220 to 260 kilometers depending on the road condition in Nepal.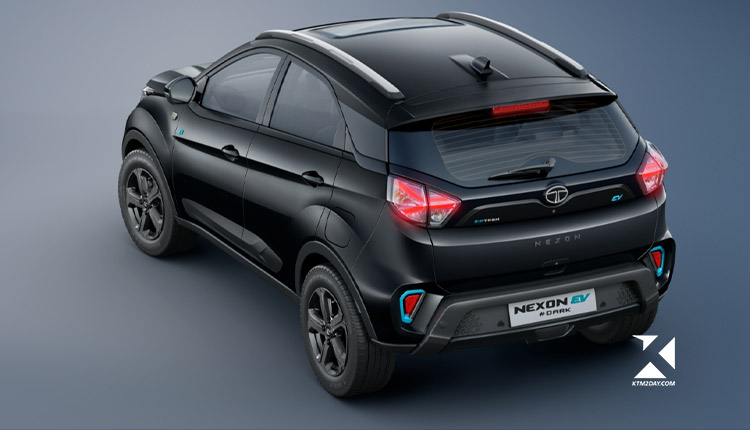 The Nexon EV of Dark Edition has no changes in features including powers, battery, range, motor. It has dark themed on the exterior and leather seats in the interior design.
This edition will come in 16-inch premium black alloy wheels. All interior parts are designed in a dark theme. This includes the Satin Black Humanity Line. The seat belt is also satin black.
The Dark Edition of the Nexon EV also features a signature LED taillamp, a floating roof, a piano black ORVM, roof-rail, a shark fin antenna design, and a body color door handle.
Tata Nexon EV Dark Edition Price in Nepal
The Dark Edition of Tata Nexon EV is available in two variants of XZ Plus and XZ Plus Lux.
Its price has been fixed at Rs 41.99 lakh and Rs 43.99 lakh respectively.
Customers have to pay Rs 200,000 more when buying the Dark Edition. The regular Nexon EV was only available in white and blue. The current Dark Edition is in a completely black color theme.