Vivo APEX 2020 : the concept smartphone will be unveiled on Friday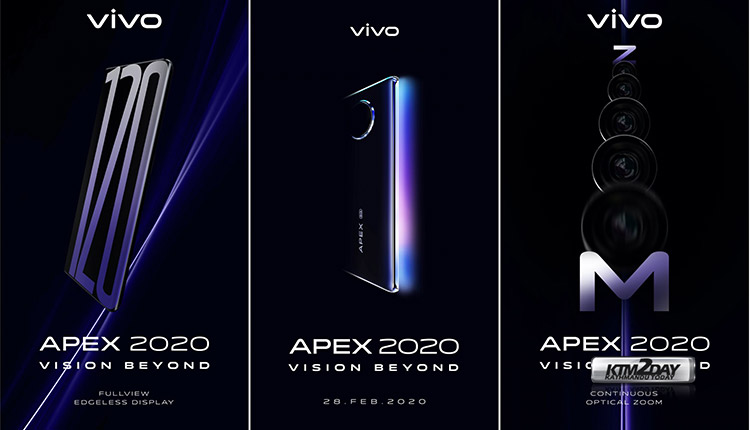 Vivo had planned to unveil its new "concept-phone" on February 23 at the Mobile World Congress but due to cancellation of the fair because of corona virus, the company has decided to unveil its smartphone finally on  February 28.
Sources confirm that the Vivo APEX 2020 smartphone will be the first in several ways all at once. In particular, this time there was information that the new device will be the first smartphone in the world with support for 60-watt wireless charging.
Earlier it was announced that it will receive support for 120 W Super FlashCharge fast charging technology, which will charge a 4000 mAh battery up to 50% in 5 minutes and up to 100% in 13 minutes.
The Vivo APEX 2020 smartphone will be equipped with a screen with a refresh rate of 120 Hz, as well as a under-display front selfie camera. Again, it should be the first smartphone on the market with a such camera.
The teaser images posted on the Chinese social network Weibo shows a curved screen with the number 120, which could most likely indicate a refresh rate of 120 hertz.
It is expected that the Vivo APEX 2020 will feature a waterfall screen and will also not be equipped with connectors and buttons, and its camera will be the first with "continuous optical zoom".
The camera configuration of the concept smartphone is also the subject of rumors. The Vivo Apex 2020 would have a 48 megapixel "gimbal" sensor, equipped with a gimbal system to offer better stabilization. The brand would accompany this sensor with a variable optical zoom between 5x and 7.5x. Vivo has never marketed its Apex range and this third generation should once again serve as a technological showcase. Like the previous version , this new model should be 5G compatible. Apex 2020 will be officially presented this Friday.