Xiaomi Mi TV LUX Launched : 55-inch transparent OLED panel TV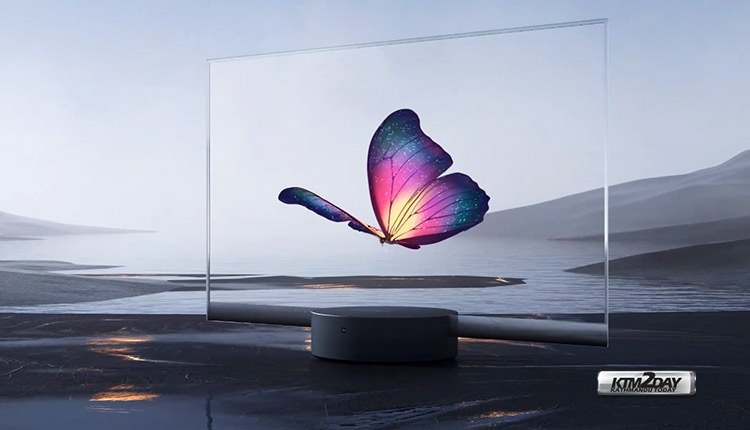 Xiaomi on the ocaasion of it's 10th Anniversary celebration launched several new products ranging from flagship smartphones Mi 10 Ultra to a mid-range device Redmi K30 Ultra . The chinese company also launched it's premium television set Xiaomi Mi TV LUX Transparent Edition which, as its name suggests, is a television that is transparent(as a glass).
The Xiaomi Mi TV LUX OLED Transparent Edition is not just any ordinary modern OLED TV and certainly will not leave anyone indifferent. This is the first model of its kind that the brand has launched to the market and, according to the company, the first to be mass produced.
The company has not given details about the technology used to achieve a transparent display, but it has simply released some of the main specifications of the TV. Thus, it is a device of the premium range and diagonally measures at 55 inches and whose price will be ¥49999(Rs 8.6 Lakh/US$7200 ).
As with any television, the first thing we notice is its screen and the Xiaomi Mi TV LUX OLED Transparent Edition screen is impressive. It stands out not only for its elegant and super-thin bezels, but also for its transparency.
Mi TV LUX OLED Transparent Edition, which is a Xiaomi TV with 55 inches in OLED panel and features Google Assistant without needing extra hardware.
When turned off, this television will look merely like a piece of glass, being even possible to see what is behind. But this television will shine even more when you turn it on.
According to Xiaomi, the images presented by Xiaomi Mi TV LUX OLED Transparent Edition will give the feeling of floating in the air. The image will be projected from the base of the television, where all the necessary components are found.
All the PCB boards and wires that are part of internal components of this TV are tucked into bottom circular stand, which is also where the sound system is located. The promised contrast is 150,000: 1 and the colors cover 93% of the DCI-P3 standard, with a refresh rate set at 120 Hz and response in 1 ms. For audio requirements, the TV is compatible with Dolby Atmos and all this is controlled by a MediaTek 9650 processor.
The Xiaomi Mi TV LUX OLED Transparent Edition has a panel of only 5.7 mm thick, which gives it a unique elegance. In fact, Xiaomi claims that this television is perfect not only for your home, but also for galleries, museums, shopping centers or theaters.
Xiaomi hasn't given any further details about screen resolution, but the panel is almost identical to LG's  55EW5TF-A which has a screen resolution of 1,920 x 1,080 (FHD). In the case of LG's screen, the screen is also transparent, has the same diagonal size in inches, the same refresh rate, the same response of 1ms and the resolution is Full HD.
Xiaomi Mi TV LUX price
Xiaomi's transparent TV will be sold from August 16 in China, for something close to $ 7,200. For now, there is still no information for global availability.
Xiaomi Mi TV LUX OLED Transparent Edition : Full Specifications
55 inch transparent OLED
5.7mm ultra-thin screen
1.07 billion primary colors display
120Hz refresh rate
MEMC motion compensation
Floating image
Backlight: None (pixel self-luminous)
Wide color gamut: support DCI-P3 93%
Resolution: 1920×1080
Brightness viewing angle: 178°
Chromaticity viewing angle: 120°
CPU: Cortex A73 quad-core
GPU: Mali-G52 MC1
Memory: 3GB
Flash memory: 32GB
WiFi: Dual frequency 2.4GHz/5GHz
Bluetooth 5.0
Infrared
HDMI: 3
Audio decoding: Dolby Digital Plus, DOLBY ATMOS, DTS- HD
Speaker input power: 2×8W, support Dolby Atmos
Weight : 24.96 Kg
Power consumption: 190W
Remote control: 1 Bluetooth voice remote control
OS : MIUI for TV