Two new Cable cars on the outskirts of Kathmandu Valley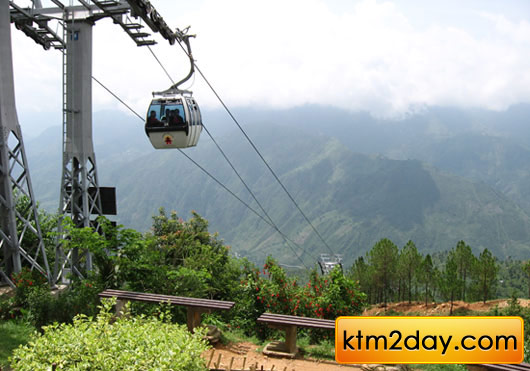 The Ministry of Tourism and Civil Aviation is planning to set up two cable cars in the outskirts of Kathmandu Valley before Nepal Tourism Year 2011.
The Tourism Ministry had conducted a pre-investment feasibility study a year ago of five cable car projects: Thankot-Chandragiri (3.2 km), Godavari-Phulchoki (2.31 km) and Budhanilkantha-Shivapuri (3.42 km) in the Kathmandu Valley besides Dhunche-Gosaikunda (9.4 km) and Suspa-Kalinchok (4.5 km).
"Of these five projects, we are planning to push two projects in the Kathmandu Valley periphery targeting NTY 2011," said Rabi Shah, project manager, Tourism Infrastructure Development Project,Tourism Ministry.He, however, said that it had not been confirmed which projects would be selected among the three.
Construction is expected to be completed within 10 months after the feasibility study. These projects will be developed in the "build own operate transfer" (BOOT) model.The upper terminal altitude for the Thankot-Chandragiri cable car is 2,539 m, Godavari-Phulchoki 2,660 m, Budhanilkantha-Shivapuri 2,660 m, Dhunche-Gosaikunda 4,205 m and Suspa-Kalinchok 3,400 m.
Nagendra Prasad Ghimire, secretary at the Tourism Ministry, said that the proposed project had attracted a number of investors. He said that four to five investors had applied to invest in the project.
Shah said that cable cars in the Kathmandu Valley periphery would encourage both domestic and international tourists to stay for a longer period. According to him, development of these projects before NTY 2011 could attract over 10-15 percent more international visitors to these
rural destinations.
He said that the major aim of the project in these selected areas was to develop them as hot-spot tourism destinations. "These destinations have immense potential to attract domestic tourists and Indian visitors that provide excellent views of the valley from all the hilltops," he added.
Shah said that the total cost of the five cable car projects had been estimated at Rs. 1,983.95 million. Similarly, the Tourism Ministry has also started a feasibility study of a cable car in Muktinath, he added.