Oman Air and Manila Airlines to begin flights to KTM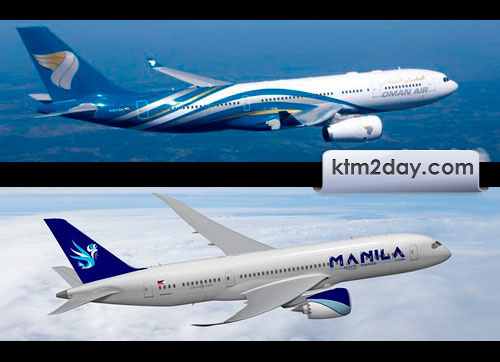 Oman Air, the flagship company of the Sultanate of Oman's civil aviation sector, and the Spirit of Manila Airlines Corporation (Spirit of Manila), a Filipino-owned airline company, have applied for operation authorization in Nepal.
With these two new airlines, there will be 27 international airlines flying in Nepal's skies which is expected to give a big boost to the tourism industry and the upcoming Nepal Tourism Year 2011 national campaign, said Nagendra Prasad Ghimire, secretary at the Ministry of Tourism and Civil Aviation.
Speaking at the 11th anniversary of the Civil Aviation Authority of Nepal (CAAN), he said that the response of international airlines had added air traffic and space challenges. "There is a need for coordination between the service providers and its regulating body (CAAN) to mitigate the problems," he said.
He added that there were a number of opportunities to take Nepal Airlines Corporation (NAC) into commercial use. "The public-private-partnership (PPP) model can be more effective to uplift NAC, but the management should be transparent," he said.
Keshab Raj Khanal, director general of CAAN, said that aircraft movement had increased by 73 percent. According to him, Tribhuvan International Airport was handling 350 to 400 flight movements daily. He said that CAAN's financial position was at a satisfactory level. In the fiscal year 2008/09, its net profit stood at Rs. 720 million compared to Rs. 410 million during the previous fiscal year.
He said that the increasing number of international airlines had increased the air seat capacity by 30 percent. With the 25 international airlines, there will be 36,660 seat availability each week.
Rameshwor Thapa, vice president of the Airline Operators Association of Nepal, said that the significant increase in the number of airlines had been posing a serious air traffic and space problem.
He added that failure to capitalise on the existing infrastructure and technology was the reason behind the problem.
He said that the airline business had a bright future in Nepal, and that the country should exploit this potential. On the occasion, CAAN presented a special award to Qatar Airways for its impressive performance during the first 10 months of the current year.