Nepal Airlines readying to purchase six new aircrafts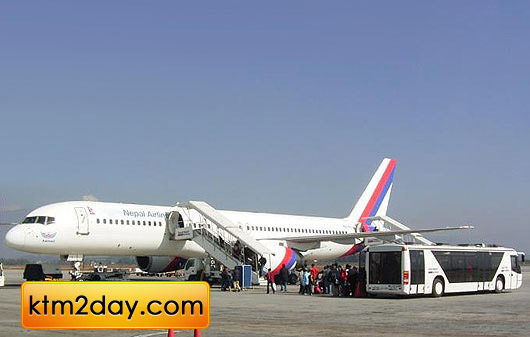 Nepal Airlines Corporation (NAC) is working on its most ambitious plan yet to purchase six new aircraft worth $356 million to recapture its declining market share.
As per the NAC new business plan that has been submitted to the Ministry of Finance, NAC will purchase two wide body for $94 million each and four narrow body aircraft for $42 million each from a multinational European Airbus company.
According to NAC executive chairman Sugat Ratna Kansakar, the corporation has submitted its new business plan to the Ministry of Finance. With the addition of six new aircraft Kansakar expects that business by the national flag carrier will increase and it will recover its market share.
At present, NAC has gross revenue Rs 6.5 billion. NAC, the national flag carrier, has only 7-8 per cent market share while the remaining market share is held by foreign airlines. "Within four or five years, we are targeting to regain up to 30 per cent of the total market share," said Kansakar adding that with the increase in number of students going abroad and the trend of Nepalis going abroad for vacations will help increase the market share of NAC in the future.
Earlier, the Public Accounts Committee had directed NAC to scrap the purchase of new aircraft. The PAC has also directed the Finance Ministry to realise the advance payment made to the Airbus company and take action against those NAC officials who did not abide by the public procurement procedure. The Budget 2009-10 has made a special arrangement of Rs 10 billion for NAC to buy two aircraft on state guarantee. NAC is also planning to add new aircraft to its domestic fleet as well.
On the domestic routes, NAC has been flying four 19-seat DHC-6 Twin Otter aircraft though it has seven Twin Otters. Apart from the two much talked about wide-body aircraft, NAC was keen to add six aircraft on international routes. On international routes, NAC is flying a Boeing B-757 and a Boeing 757-200 aircraft — Karnali and Gandaki — each with 190-seat capacity.
Nepal's national carrier, NAC is modernising its international fleet with six new aircrafts. The new Airbus aircraft will be deployed on international services to Japan and will for the very first time connect Nepal to Europe with direct flights.
(Source:THT)