Nepal Telecom launches bonus recharge scheme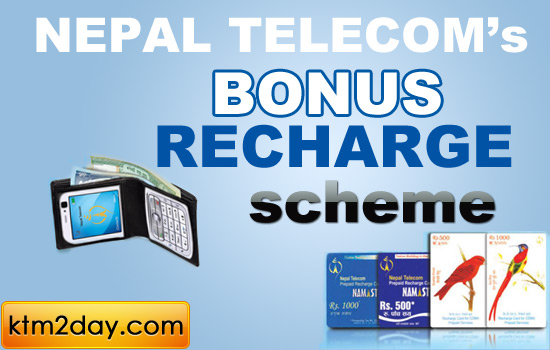 Nepal Telecom (NT) is planning to provide more value-added services to its customers. It has recently launched a scheme to provide its pre-paid users with ten per cent extra balance on recharge cards of Rs 500 and Rs 1,000. "This scheme offers Rs 50 extra on a recharge of Rs 500 and Rs 100 extra on a recharge of Rs 1,000," said Surendra Prasad Thike, NT's spokesperson.
Next Generation Network (NGN) is one of the main services that NT is looking to provide in the current fiscal year. NGN which is a packet-based network, can provide services including Telecommunication Services, and is able to make use of multiple broadband, quality of service-enabled transport technologies, and in which service-related functions are independent from underlying transport-related technologies.
It offers unrestricted access by users to different service providers. It supports generalised mobility, which will allow consistent and ubiquitous provision of services to users. "We are regularly monitoring our prices and the competition is fierce. But we still have a strong base of subscribers," said Thike.
Blackberry Solutions which has recently been made available in Nepal by Ncell has set a bar as far as competition between network providers is concerned by launching the top-of-the-line technological service in Nepal. Ncell has taken a giant leap in the country's telecom market. "We already have 3G facilities for our customers. We have been approached by many companies for direct-to-home (DTH) services," said Thike. CG Techno Dreams has shown a strong and keen interest and is likely to start its DTH services.