NTA suspends Ncell's Dial 9090 prize scheme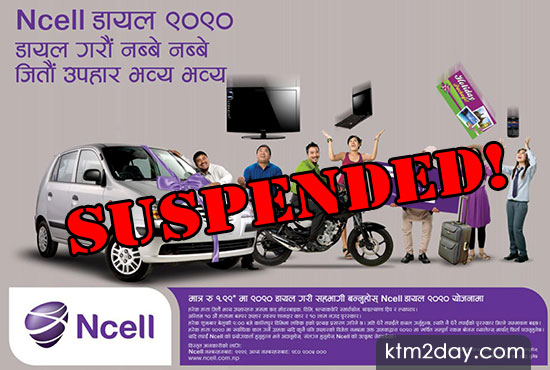 Ncell has suspended its lucky draw campaign ´Ncell Dial 9090´ after Nepal Telecom Authority (NTA) – the telecom regulator questioned the service provider for charging the tariffs going against NTA´s regulation.
In a letter sent to Spice Nepal Pvt Ltd – the operator of Ncell – NTA objected the higher tariff that it was charging for the campaign.
"The permitted tariff for Spice Nepal is Rs 1.99 per minute (exclusive of tax), whereas the campaign was charging rupees Rs 2.47 (inclusive of tax) for 10 seconds," the letter sent to SNPL stated. It also asked the service provider to defend why the company should not be punished.
NTA has also asked Spice Nepal to furnish clarification over the act of imposing additional tariffs than what was permitted and also directed it stop the service before reaching to any consensus.
According to NTA, the act was against Clause (47) 2 of Nepal Telecommunication Act 1997. The telecom regulator has given Spice Nepal three days to furnish clarification.
Commenting on the new development, Corporate Communication Manager of Spice Nepal, Sanju Koirala, expressed the hope that the problem would be sorted out soon.
"We are shortly having a meeting with the NTA officials to resolve the issue," she said and added that the scheme had received positive response in such a short span of time. "We are hopeful that the service will resume quickly," she added.
Ncell, one of the largest telecom operators in the country, was offering different prizes to customers under the campaign.