Two new cooking gas companies enter Nepali market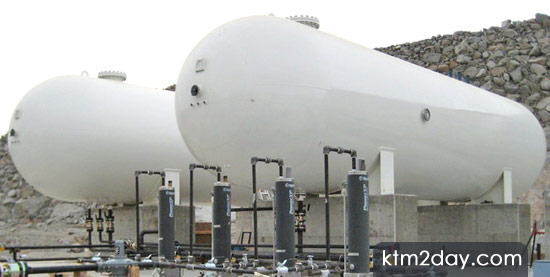 At a time when investors are complaining about lack of investment climate, the country is ready with the 27th cooking gas industry — Sugam Gas Industry.
"Sugam Gas Industry with Rs 250 million investment is planning to distribute gas in the market from November 1," said chairman of the company Shiva Prasad Ghimire.
"Out of the total investment, Rs 120 million is loan from Himalayan Bank Ltd," he added.
Learning the lessons from the past strikes and highway bandhs, the factory is located at Khanikhola, Dhading, 14 km from Thankot, the entry point to the Kathmandu Valley. "The new facility targets to serve the Valley and surrounding areas," he said.
"If operated smoothly according to its capacity, the facility will contribute Rs 30 million to the government coffer in a year," according to Ghimire.
The country has imported 141,171 tonnes of LPG in the fiscal year 2009-10 whereas it imported 115,813 tonne of gas in the fiscal year 2008-09, according to the Nepal Oil Corporation (NOC).
There are around five gas industries still in the pipelines.
With increasing population, the Valley consumes 1,00,000 cylinder of LPG in a month and around 60 per cent of this is consumed in the Valley alone, he said, adding that he plans to provide the Valley residents with regular supply of cooking gas in a safe cylinder. Sugam Gas employees 100 people directly and around 500 indirectly, he said.
____________________________________________________________________________________
Salt Trading Corporation (STC) plans to start bottling liquefied petroleum gas at its plant in Dhading in a week if the ongoing test run is successful.
The semi-government entity has installed a gas plant at Jungekhola, Dhading. It is the 28th gas plant in the country. "With the gas plant coming online, we hope to address the occasional gas shortages in the market," said Urmila Shrestha, general manager of Salt Trading.
Salt Trading will sell its gas under the brand STC. It has already got a production delivery order of 107 tons from Nepal Oil Corporation.
This amount is sufficient to fill 7,606 cylinders of 14.2 kg weight. Salt Trading plans to widen its market and has already written to Nepal Oil Corporation for a production delivery order of an additional 216 tons of gas.
The production delivery order means gas dealers have to get permission from Nepal Oil Corporation for distribution of a certain quantity of gas because it is the sole gas importer in the country.
Salt Trading said it has made an investment of Rs 230 million in the gas factory. It has a production capacity of 22,000 tons per year enough to fill 1.54 million cylinders. "We are planning to upgrade this capacity to 12 cylinders per minute," said Shrestha.
Salt Trading has been using cylinders manufactured domestically by the Panchakanya Group. "We have given high priority to the quality of the cylinder," said Shrestha. "That's why our cylinders may cost a little more than others when making the initial deposit."