Buddha Air plans to start flight from Pokhara to New Delhi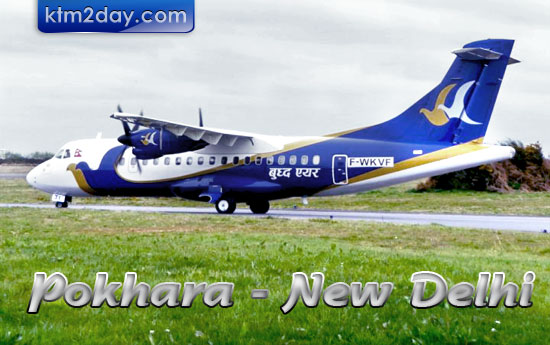 Buddha Air is planning Pokhara-New Delhi flight as part of its cross-border commercial scheduled operation to the various Indian cities.
"The airliner has also been waiting for the approval for the Pokhara-Gorakhapur air route," it said, adding that the planned flight on Pokhara-Gorakhapur route will take a little more time as Buddha Air still has to get approval for the air route.
One of the largest private domestic airliners said that instead of Pokhara-Gorakhapur flight, it is starting Kathmandu-Lucknow flight from January 7.
Under the revised Air Service Agreement (ASA) between Nepal and India, Nepali airlines can operate flights from 21 points — including three new points – Dehradun, Gorakhapur and Bagdogra – for Nepal, while the Indian airlines can operate flights in Pokhara, Lumbini, Biratnagar, Nepalgunj, Janakpur, Dhangadhi and Bhairahawa.
The Memorandum of Understanding (MoU) for the revision of bilateral Air Service Agreement and a technical accord signed in New Delhi on September 10 facilitates five-fold increase in air seats between the two South Asian neighbours. The MoU also facilitates Nepal to operate flights to Indian cities like Goa, Amritsar and Kochi.
Buddha Air's flight to the Indian city of Lucknow will be its second international flight after Paro, Bhutan. "Buddha Air is flying every Sunday, Wednesday and Friday to Lucknow," according to it. "The three scheduled flights every week on the Kathmandu-Lucknow-Kathmandu route will help ease the pressure of the air travellers as Lucknow has a very good connectivity to other Indian cities."
Buddha Air — that is flying its 47-seater ATR-42 aircraft to Lucknow in the beginning — is also planning to add flights to other Indian cities like Guwahati, Kolkata, Patna, Banaras, Gorakhapur and Deharadun soon.