Old planes dumped at TIA to be auctioned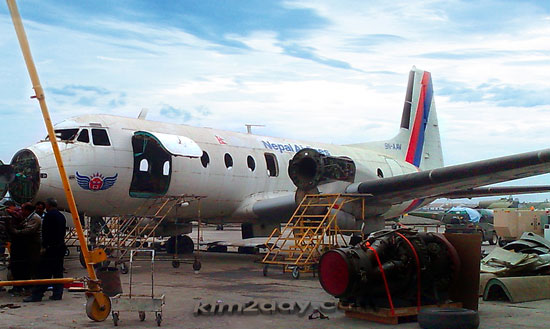 The Ministry of Tourism and Civil Aviation is preparing to auction old aircraft that have lain abandoned at Tribhuvan International Airport (TIA) for scrap.
The TIA management has passed a proposal to get rid of these unserviceable planes that have been an eyesore at the airport besides posing a safety hazard. "As per the TIA proposal, the ministry will form a valuation committee for these aircraft," said TIA general manager Dinesh Shrestha. After the valuation is done, the process of auctioning the junk will begin.
A few months ago, the Commission for the Investigation of Abuse of Authority (CIAA) had directed TIA to improve its competitiveness level for better performance.
As part of its regular monitoring, the anti-graft body had directed TIA to proceed immediately to remove junk from the airport grounds for safety reasons.
"Following the CIAA's instruction, we have issued notices to the concerned companies regarding the sale of their useless aircraft. As there was no response from them, the airport management has forwarded a proposal to auction the aircraft to the ministry," Shrestha said.
The airlines that have dumped their old planes at TIA have not even paid parking charges. There are 13 such aircraft including three 19-seater Dorniers and a 100-seater Fokker belonging to Cosmic Air.
Cosmic owes TIA Rs 12.8 million in parking, landing and navigation charges. Similarly, Nepal Airways owes Rs 1.17 million for its helicopter and Y-12 aircraft, and Necon Air Rs 46.3 million for its Avro aircraft.(Source:ekantipur)