Electricity generation averages at 6.44 Mega Watt per year in Nepal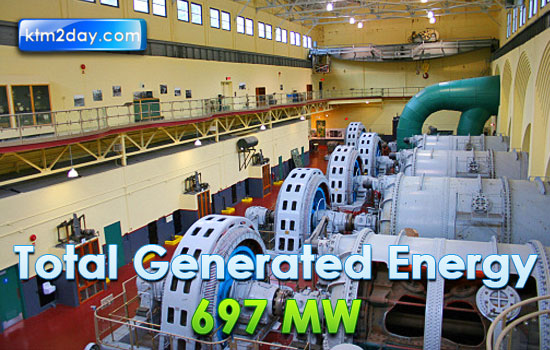 In the history of last one hundred years of the country's electricity generation, an average electricity generation stands at a mere 6.44 Mega Watt per year, whereas according to traditional estimation of Nepal Electricity Authority (NEA), demand for consumption has been increasing by 12 per cent every year, according to the experts.
"Government's current electricity generation capacity stands at 472.99 MW, apart from its small power plants generation of 4.54 MW and private sector's generates 166.81 MW, making a total of 644.33 MW from hydropower," said coordinator of Energy Development Council under Confederation of Nepalese Industries (CNI) Guru Prasad Neupane at an interaction on 'Nepal's Energy Crisis: Issues and Solutions' organised by CNI here today.
The total energy generated, however, stands at 697.85 MW including, 53.41 MW from diesel plants and 0.10 MW from solar, he said, presenting his paper.
"The crisis of trust between government and private power developers, lack of security, lack of transmission line and infrastructure, high interest rates, Power Purchase Agreement (PPA), cumbersome licensing policy and accumulative loss of Nepal Electricity Authority are some of the hurdles in developing the power," he said, adding that the government immediately needs to create investment-friendly environment, attract foreign investment, implement one-window policy, new transmission lines, and open import-export policy for electricity could solve the current problems.
However, Minister for Energy Gokarna Bista promised that the government is bringing new scientific regulation to award licence that would encourage the real developers and discourage the fake ones. "NEA will go through structural reform," he said, adding that the government is also bringing a new regulation that will shorten EIA process to a month.
Bista also informed that a separate body is going to be formed to look after transmission line that the government is planning to expand from East to West and North to South, apart from corridor transmission line that is in offing. The government is also preparing a Generation Master Plan, doing the study of real electricity generation potential, construction of transmission line based on load centre, according to him.
In the last 10 years — from 2000 to 2010 — only 127 km transmission line has been constructed that is insufficient in case all the hydel projects that are in pipeline completes on time. "There are some 3,200 MW capacity PPA in pipeline," Bista said, adding that the budget for the next fiscal year is going to address marketing of surplus electricity, apart from provisions of bulk sale of electricity.
The successive government's only sold dreams by announcing programmes like '10,000 MW in 10 years', '25,000 MW in 20 years' and '2,500 MW in four-and-a-half years,"said CNI president Binod Chaudhary.
"The government should not make impossible promises," he said, suggesting the government to make possible promises only as the contribution of electricity stands at only 2.21 per cent in the total energy demand. Due to low electricity production, the industries have been hit by regular power outage increasing the cost of production and decreasing the competitiveness of domestic products, he added.
Industrial sector is projected to consume 37.4 per cent, household 42.8 per cent, trading sector 7.7 per cent, and miscellaneous sector 12.1 per cent of electricity in current fiscal year, whereas, number of electricity consumers, in first six months of 2010-11, stood at 1.95 million — an increase by 9.02 per cent — from last fiscal's 1.79 million. (Source:THT)