NTY publicity campaign to start mid-Sept on BBC, CNN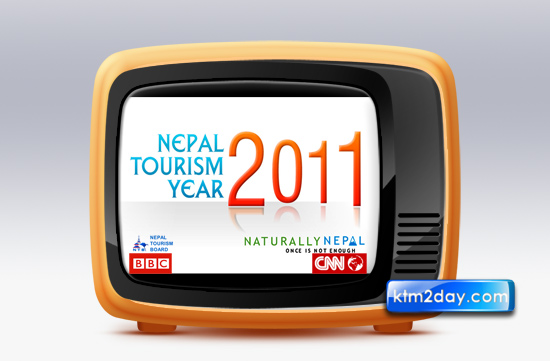 The Nepal Tourism Year (NTY) 2011 International Promotion Committee said on Monday that it was expediting consumer publicity programmes on BBC and CNN for the autumn season.
The publicity campaign on these networks will start by mid-September and is directed at the Asia Pacific, European and US markets.
The promos on BBC and CNN are designed to attract the maximum number of tourists during the autumn which is the peak tourist season in Nepal. Of the total international arrivals, the period September-December accounts for 50 percent.
"We have also requested these networks to beam the NTY promo to the South Asian region and they are positive about it," said Ranjit Acharya, a member of the NTY International Promotion Committee. BBC and CNN have agreed to cut their advertising tariff in response to Nepal's plea that it lacked adequate funds to promote NTY in the international market.
The government had allocated a budget of Rs 130 million to publicize the NTY campaign at the international level. Out this amount, Rs 60 million was set aside for India, Rs 30 million for China and the rest for other source markets. The committee had planned to use the allocated funds for international promotion in three sections—India, China and other source markets.
Acharya said that the planned promotion in India and China had been dropped for this year. The summer promo in India and China did not happen as the Ministry of Tourism and Civil Aviation (MoTCA) scrapped the process citing faulty tendering process. Ministry officials said that the tendering process had not fulfilled the requirements of the Public Procurement Act.
"We have missed the promotion deadline in the two neighbouring countries and reviving the publicity plan for the coming season would be a waste of money," Acharya said, adding that the committee had decided to go for re-tendering and that the publicity campaign would begin next summer.
Nepal aims to bring 265,000 tourists from India and 100,000 from China during NTY.
A sum of Rs 120 million has been earmarked in the current budget to be spent on consumer publicity. The new budget has also focused on the two giant emerging economies of India and China.(Source:ekantipur)