Tribhuvan International Airport to implement satellite-based navigation system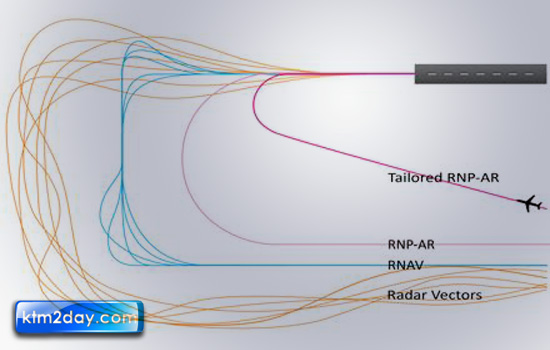 The Civil Aviation Authority of Nepal (CAAN) is all set to launch a satellite-based navigation system at the Tribhuvan International Airport (TIA). The system will help accommodate more planes in limited airspace.
CAAN announced on Tuesday that it will implement the operation of the required navigation performance with authorisation required (RNP-AR), a system that helps aircraft having instruments based on RNP get information on flight condition and other flight information from the satellite at the TIA. Quovadis, a subsidiary company of Airbus, wilil install the RNP free of cost.
Required Navigation Performance (RNP) is a form of Performance Based Navigation in which the onboard aircraft navigation system provides performance monitoring and alerting, allowing the aircraft to safely fly precise, three-dimensional trajectories.
The RNP-AR will come into operation from Dec 15, according to CAAN. Currently, the TIA has a conventional VOR/DME, a combined radio navigation station for aircraft. RNP was initially developed to address problems of terrain and weather-challenged airports.
Implementation of RNP allows an aircraft to fly accurate and repeatable flights without relying on ground-based navigation aids. The additional track flexibility provided by RNP-AR will allow planes to fly around the terrain currently over flown when using the conventional approach.
RNP-AR will provide a smooth descent and fully stabilized approach, improve safety significantly and reduce required visibility compared to conventional procedures.
The project is the result of an initiative between CAAN, Airbus and Qatar Airways to further improve the safety of operations in Kathmandu.
"CAAN is committed to improving safety and developing PBN as per ICAO recommendations. RNP-AR is the best solution to achieve the operational benefits sought by our airline customers and to improve airport access," said Dinesh Prasad Shrestha, deputy director general of CAAN and convener, National PBN Implementation Committee.
According to him, Quovadis is an Airbus company specialised in performance-based navigation (PBN), focusing on developing innovative flight operations to efficiently optimize aircraft and airspace utilisation.
Quovadis has already performed a data survey of obstacles and will develop RNP-AR arrivals to Runway 02. It will also provide PBN training to air traffic controllers for smooth introduction of RNP-AR operations into Kathmandu airspace, CAAN said. Celine Baillard, sales director at Quovadis, said that implementation of RNP-AR operations at TIA would be a big step forward for the benefit of safety and reliability.
"We are very proud to support CAAN in this project and to offer to all operators flying to Kathmandu the opportunity to reduce their operational costs."
Implementation of RNP-AR will also optimise the use of TIA airspace, increasing airport capacity to enable future growth of air traffic in Nepal.(Source:ekantipur)