Internet subscribers touch 3.11 million: NTA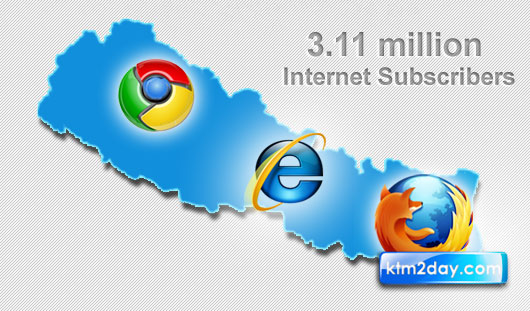 The consumers of data and internet services reached to 3.11 million until mid-July with overall 10.89 per cent internet penetration rate, according to the MIS report of Nepal Telecommunications Authority (NTA).
Some 2.83 million people are connected to the internet using GPRS, followed by 154,548 internet users, who are connected through CDMA.
Similarly, some 68,343 internet subscribers use ADSL, 15,629 cable internet and 20,355 dial-up internet facility. With the emergence of wireless technology, the users of wireless or fibre optic technologies have also increased to 22,288, the report said, revealing that Ncell holds 60 per cent market share of internet subscribers against 36 per cent market share of Nepal Telecom (NT), whereas the market share of UTL stands at two per cent and other Internet Service Providers (ISPs) at two per cent.
Nepal has 11.60 million mobile subscribers, 839,317 fixed-line subscribers and 721,518 satellite and limited mobility services subscirbers till mid-July, it said, adding that with the increment in the number of telephone subscribers,Nepal has gained an overall telephony penetration rate of 46.05 till mid-July. The telephony rate includes fixed, mobile, limited mobility service.
The penetration rate of fixed telephony service, mobile and other services including limited mobility stands respectively at 2.93 per cent, 40.59 per cent and 2.52 per cent. Telephony penetration rate is a term generally used to describe the number of active phone numbers usually as a percentage within a specific population. The Central Bureau of Statistic (CBS) has projected a total of 28,584,975 population for 2011 in the country. According to which the country should have 13,149,088 telephone users.
13 ISPs fail to submit details
KATHMANDU: Despite regulator's decree, some 13 Internet Service Providers (ISPs) failed to submit details of their subscribers. "It is not a good practise to defy the regulator's directives also at the time when the activities of some ISPs have been under suspicious," the Nepal Telecommunications Authority source said, adding that the service providers should not hesitate to submit their consumer details, if they are doing their business in transparent manner. The regulator will once again direct them to submit user details and take action, if they failed the time too, the official added.(Source:THT)