MLTR touches down in Nepal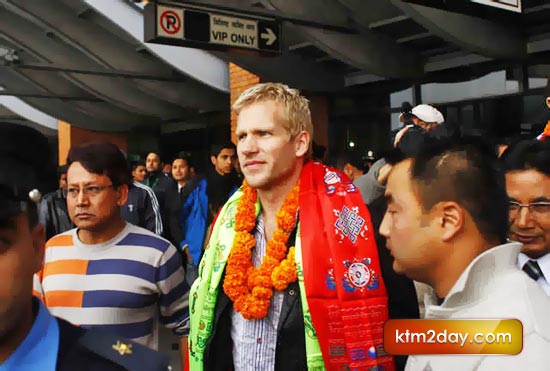 Danish pop rock band Michael Learns To Rock arrived in the country on Wednesday, ahead of their scheduled concert on Saturday. The three member band proceeded from Tribhuvan International Airport in the capital to Radisson Hotel in Lazimpat where they will be staying for the duration of their visit.
The highly popular band comprising singer-keyboardist Jascha Richter, drummer Kåre Wanscher, and guitarist Mikkel Lentz were greeted with flower garlands and colourful khadas on their arrival. MLTR as the band is known for short, is the second internationally acclaimed act after Candaian rocker Bryan Adams to perform in the country this year.
Adams was the first big international name to perform in Nepal in February and his concert was a massive success in a country hitherto starved of global music stars. MLTR has credited Adams for having paved the way for their upcoming concert. They also revealed that they had always been interested in performing in Nepal but were only invited this year.
MLTR fever in the capital is rising to a crescendo with banners plastered all over the city and the trio being splashed in the media. The trio plan to take a mountain flight during their stay in the country to view the world famous Mt. Everest.
They will perform their evergreen hits like The Actor, Sleeping Child, Someday and That's Why (You Go Away) in Tundikhel on Saturday. (Source:THT)