KL Tower plans mid-April soft launch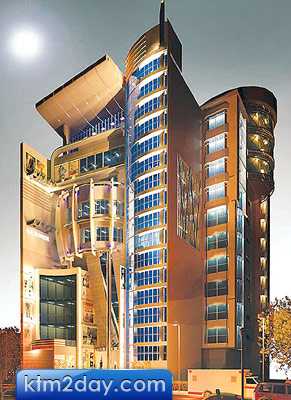 KL Tower and Multicomplex is planning to open KL Tower at Chuchhepati, Kathmandu by mid-April 2012. According to the mall management, more than 90 percent of the construction work has been completed and around 95 percent of the space at the mall has been sold.
"Although the mall will be formally launched in mid-July 2012, a soft launch will be held in mid-April. People will be able to obtain products and utilize the facilities after the soft launch," said Ganesh Dhungana, general manager of KL Tower. According to Dhungana, the mall will feature international standard infrastructure and services.
Currently under construction, the 10-storey building which has a business area of around 80,000 sq ft. It will house branded stores and a department store on the ground floor, electronics stores on the first floor, readymade clothes stores on the second and third floors, a gaming zone on the fourth floor, a food court on the fifth floor, a multiplex on the sixth, seventh and eighth floors and office space on the ninth and 10th floors. The mall will be centrally air conditioned.
The multiplex to be opened in the mall will feature three halls which can accommodate 640 people at a time. All the halls will be compatible for 3D cine viewing and equipped with Dolby Digital sound system. The mall is in talks with an Indian company to operate the multiplex.
"In case the deal does not work out, the mall itself will operate the multiplex which will be named Cinema City," Dhungana said. Likewise, the gaming zone at the mall will incorporate the latest gaming devices and bowling alley to satisfy children as well as grown-ups. As for the food court, there will be 15 stalls and seating for 1,500 people at a time.
Apart from this, the mall will also operate a viewing tower on the top floor. According to Dhungana, the view tower will be a centre of attraction for tourists as one can see the Himalaya and the cultural heritage of the Kathmandu valley. The mall will also feature a bank. Keeping in mind traffic congestion and unavailability of parking space, the mall is constructing a double basement parking lot that can accommodate around 100 four-wheelers and 400 two-wheelers.
According to Dhungana, the mall will be an option for those who don't want to travel to the city centre for their shopping. "We will try to capitalize on the locals residing nearby," said Dhungana, adding that the company was providing all the basic facilities to make the mall a one-stop shopping destination. In a bid to attract customers from other parts of the valley, the mall management is planning to provide a shuttle service from a number of places.(Source:ekantipur)