Domestic airliners hesitate to go international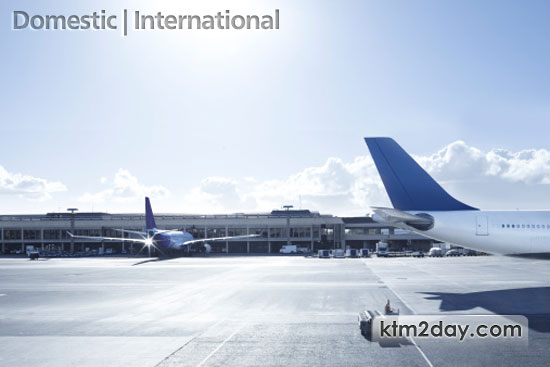 Though the government has framed a favourable policy for the operation of international flights by private airlines, the lack of sufficient capital and a proper business plan has made it difficult for domestic players to start cross border operations.
Alpine Air, Air Nepal International and Yeti Airlines International were three private companies, who were issued a license for cross border flights, but none of the airlines are in operation, according to the Ministry of Tourism and Civil Aviation.
"The three airlines have failed to operate their international flights and renew their licenses on time," said joint secretary at the ministry Suresh Acharya. "A company, at present, has to pay Rs 0.25 million to renew its license for each route which was Rs 0.50 million per route initially," said Acharya, adding that the ministry is still very flexible towards private airlines that want to spread their wings as international airlines are taking away Rs 70 billion by operating flights on the Kathmandu route.
The Prime Minister's Economic Advisory Committee has also suggested on encouraging domestic private airlines to fly on international routes.
"At a time when international tourist arrivals are quite encouraging, we have come up with a policy to promote domestic airlines or a private operator to fly on international routes which might help bring in more tourists," said Acharya, adding that the ministry has urged private companies to come up with concrete plans and policies to renew their licenses.
"The ministry had issued license to Alpine Air and Air Nepal International in 1998 while Yeti Air International had received its cross border flight operations license in 2008.
To start the cross border filghts, a new company needs a bank guarantee of Rs 500 million and should have at least three aircrafts, either on lease or on purchase basis. The company also needs to be granted permission by the ministry before approaching CAAN for its evaluation.
The airline has to submit a copy of approval to CAAN for its technical evaluation after it gets approval from the ministry.
CAAN gives the Air Operation Certificate (AOC) six months after the technical evaluation, after which an airline can start its operations within one year after getting the AOC from CAAN.
But the ministry scraps the license and bank guarantee, if the companies fail to operate flights within two years. Meanwhile, BB Airways is planning to start its international flights from September 13. During a meeting with Prime Minister Dr Baburam Bhattarai yesterday, chairman of BB Airways Bhawan Bhatta informed about the airlines plan of flying to seven international destinations.
The airways that has received the AOC can operate flights to New Delhi, Bangkok, Kuala Lumpur, Hong Kong, Tokyo, Qatar and Singapore. BB Airways is promoted by TBI Group — an investment company led by Non-Resident Nepa-lese Association (NRNA) treasurer Bhatta.
It had applied for permission to operate international flights from Kathmandu at the ministry on September 25, 2011. The ministry gave the airlines a green signal on the basis of a seven-member evaluation committee led by Acharya. (Source:THT)