Flights into KTM almost booked out for autumn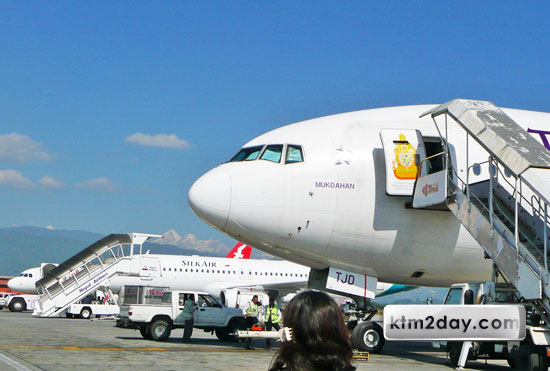 International airlines serving Nepal are seeing a surge in inbound bookings. Almost every flight into Kathmandu is 90 percent booked for October and November while 75 percent of the seats have been booked for September, said travel agents.
They added that the rush for tickets may also encourage carriers to hike fares. Tickets are expected to be 20-25 percent dearer this autumn. "As Nepali travellers have a habit of making their reservations at the last hour, they will have to pay more," said Bhola Bikram Thapa, managing director of President Travels and Tours. "There is a large number of Nepalis in different parts of the world who will be returning home for the festival season, but they are yet to make reservations."
He added that getting a ticket on some routes may be very difficult during the peak season no matter how much travellers are prepared to pay. The September-November period is the high season for airlines as this is when most foreign tourists visit Nepal and migrant Nepali workers and students return home to celebrate the holiday season with their families.
Travel agents said that the Kuala Lumpur-Kathmandu sector has become a very busy route. Nepal Airlines, Air Asia, Biman Bangladesh, Jet Airways and Thai Airways are some of the carriers serving the sector. Malaysian Airlines and Nepali private carrier BB Airways plan to fly on this route by September. The increased number of carriers and resulting competition is expected to start a fare war.
"All the carriers flying the Kuala Lumpur-Kathmandu route report full inbound bookings from the last week of September," said Shyam Raj Thapaliya, managing director of Osho World Travel Nepal.
Meanwhile, the London-Kathmandu route has emerged as the busiest sector after Kuala Lumpur with bookings surpassing 95 percent for October. Qatar Airways' London-Kathmandu flights are almost packed from Sept 10 while bookings for October have crossed 95 percent. Oman Air and Gulf Air have bookings of more than 80 percent.
Similarly, inbound flights from other European destinations are almost sold out for October. Flights to and from the US are fully booked from Sept 10 onwards.
Inbound from China too has been good. Three Chinese carriers, Air China, China Southern and China Eastern, have modest bookings for September but are sold out for October. Indian carriers Air India, Jet Airways, Indigo and Spice Jet are full after Sept 22. Similarly, Hong Kong-Kathmandu flights are fully booked from mid-September to mid-October while Bangkok-Kathmandu flights are fully booked for October and November.
The rush for tickets has prompted a number of airlines to increase their frequency. According to the Civil Aviation Authority of Nepal, Gulf Air, Air Asia X, Dragon Air and China Eastern have applied to raise their frequency from September.
Among them, Air Asia has been permitted to increase the frequency of its Kuala Lumpur flights to thrice weekly from twice weekly. Gulf Air has applied to increase the frequency of its 12 times weekly Bahrain service by two flights weekly from Sept 11. Dragon Air has applied to double its thrice weekly service to Hong Kong and China Eastern wants to upgrade to five weekly flights on the Kunming sector.