Nepal Telecom plans outsourcing SIM distribution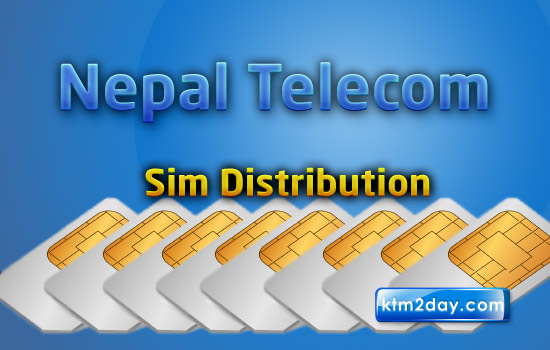 Nepal Telecom (NT) is planning to outsource SIM cards distribution in a move to ensure easy availability of mobile connections to prospective customers. As per the company's plan, outsourced private firms will also sell mobile handsets bundled with the SIM.
The state-owned company has started preparations in this regard so that it could sell new SIM cards as soon as the new mobile lines under its mega project — 10 million GSM lines — become ready for distribution. Distribution of new connections under Package B (4.8 million lines) of the project is expected start in June.
NT officials said the outsourcing of SIM card has been planned to eliminate the hassles that customers face while acquiring NT SIM cards. In the past, whenever NT announced distribution of new SIMs, large queues formed outside NT outlets and customers were forced to wait for several hours, sometimes overnight in some places, to get a new connection.
"We are in the initial phase of the plan to outsource SIM cards," said Guna Kesari Pradhan, spokesperson for NT, adding that making SIM cards available easily across the country through NT's own channels was not an easy task.
This is the first time the state company is all set to seek support of private companies to sell mobile lines. Two months ago, NT outsourced two firms to sell its WiMax broadband internet service. It has also outsourced its enquiry service and mobile tower maintenance, but in a small scale.
According to NT, sales of SIM cards require detailed preparation on record keeping of customers and necessary changes in existing work system.
Of the total 10 million mobile lines, NT will distribute 4.8 million lines in the Kathmandu Valley and Western development region. Remaining 5.2 million lines, known as Package A of the mega project, is targeted for Central, Eastern, Far-Western and Mid-Western development regions.
NT has signed the contract for installation of equipment and commissioning of the lines under Package B with Chinese telecommunication equipment vendor Huawei Technologies. However, the company is yet to seal a deal for Package A with the same vendor, which had quoted the lowest.
NT and Huawei are in negotiation for Package A for last one and half months. As per NT's plan, it was supposed to sign a contract with Huawei in the second week of January. Pradhan said the agreement signing process with Huawei was in final stage.