WiMax internet service for general public from Wednesday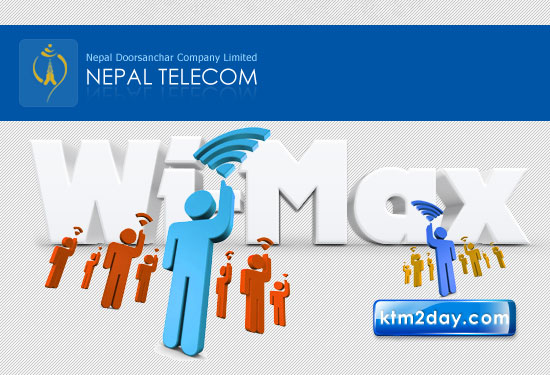 WiMax broadband internet service will be available to the general public from Wednesday, said Nepal Telecom (NT). The telecom giant decided on Sunday to start providing the high-speed wireless internet service to households and individual customers.
Presently, WiMax broadband is available only to corporate customers in 49 districts. NT said that the service would be available in all the 75 districts within two months. WiMax is part of the fourth generation (4G) communication technology and provides high-speed wireless internet service over vast distances like the mobile phone network.
NT said the service would be distributed to customers in the Kathmandu valley from its offices at Sundhara and Jawalakhel. It has also outsourced service distribution to two companies — AirMax Technology and Unitech Network — who will distribute the service from Putali Sadak, Durbar Marg, New Baneshwor and Kupandol.
NT will provide the service to customers elsewhere in the country in collaboration with AirMax and Unitech. NT has signed contracts with the two companies to provide the service under a bundling scheme. They will sell the required consumer premise equipment (CPE) or USB dongle to customers.
"Prices of the USB device range from Rs 5,000 to Rs 7,000 depending on capacity," said NT deputy spokesperson Rajesh Joshi. He added that general customers would be able to subscribe to volume based data packages for one month, three months or one year by choosing speeds of 256 Kbps, 512 Kbps or 1 Mbps.
NT has decided to provide discounts of 50 percent and 15 percent for three-month and one-year packages respectively. The company will also provide a 50 percent discount for one WiMax line in each VDC as recommended by the VDC office. Joshi said that they had fixed monthly charges at Rs 650 for 5 GB package at 256 Kbps speed, Rs 850 for 8 GB at 512 Kbps and Rs 1,340 for 12 GB at 1 Mbps speed.
Meanwhile, AirMax and Unitech have been making preparations to set up contact centres in Biratnagar, Pokhara, Chitwan, Butwal, Dhangadhi and Mahendra Nagar to distribute WiMax connections. NT had planned to provide the service to the general public by mid-January, but the launch was postponed due to delays in procurement of CPEs.
NT has planned to bring WiMax coverage to 1,923 VDCs and 24 municipalities in the western part of the country and 2,092 VDCs and 34 municipalities in the east by the end of this year.