Nepal witnesses significant growth in internet services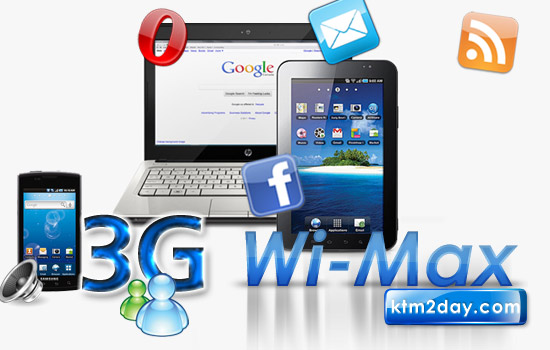 The country has witnessed significant growth in internet services in last five years. At the end of the last fiscal year (mid-July), data penetration reached 26.10 percent with total subscriber base touching 6.91 million.
Till July 2008, internet service was available only to 515,592 subscribers and a majority of them relied on slow data services like dial-up and GPRS, according to the Nepal Telecommunications Authority (NTA) data. Now, there are multiple choices for consumers for high speed data services that include high speed wireless 3G, new technology based WiMax and cable internet at competitive price.
In fiscal year 2010-11, telecom companies and internet service providers (ISPs) added 1.7 million new data customers — up from 844,213 in the previous year.
Ananda Raj Khanal, director at NTA, said the expansion of data-enabled GSM mobile service was the main driving force for the growth. "With demand for mobile data growing, operators having only voice service will find it hard to exist in coming days," he said.
Availability of cheaper smartphones, decline in bandwidth price internationally, increased attraction towards social media and competition among operators have pushed up the market of wireless mobile internet, according to NTA officials.
Of the 6.91 million internet subscribers, around 6 million surf data through their mobile handsets.
Telecom companies — Ncell, Nepal Telecom (NT), United Telecom Limited (UTL) — and around four dozen ISPs are providing data services. Telecom companies, however, command 99 percent market share, while ISPs hold 1 percent. From last fiscal year, NT has been focusing on data service and started new WiMax internet service.
NT has been offering multiple data services like dail-up, WiMax, EVDO, 3G and leased line connectivity. With focus on mobile data users, NT is preparing to implement package schemes, according to Rajesh Joshi, joint-spokesperson for NT. "We are working on a real time billing project to this effect," he said.
Currently, NT charges Rs 1 per MB (exclusive of taxes) in GPRS and 3G internet services, and Rs 0.50 per MB in IP-CDMA-based Sky Pro service.
The state-owned company has also run an offer for Sky Pro, under which in which customers paying Rs 2,359 can get 5 GB package, USB dongle and RUIM card. This offer allows users to use internet at Rs 0.47 per MB.
Ncell has also been offering different internet packages ranging from 3 MB (24-hour validity) to 10 GB (30-day validity). "We have data packages costing Rs 0.29 to Rs 2 per MB and customers can choose size as per their need," said Milan Sharma, corporate communication expert at Ncell.
ISPs, which were mainly targeting the corporate customers until last year, have started bringing schemes with focus on individual customers.
According to the NTA's recent Management Information System (MIS) report, Ncell has 3.4 million customers, while NT has 3.2 million users by the end of last fiscal year. UTL and ISPs have 95,657 and 85,821 data users, respectively.
The NTA said there would be more competition, especially in data, between the two telecom companies and other companies planning to expand the market across the country by obtaining the unified telecom licence. Khanal said with NT adding new 3G lines and Smart Telecom planning to go nationwide, the market will see more competition in terms of quality and price.