Tourist arrivals expected to rise due to stronger dollar this season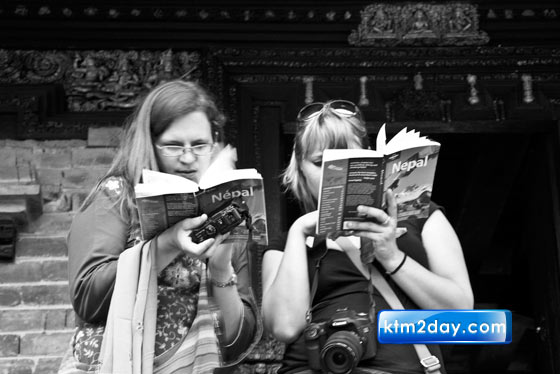 The country's import sector may be watching the freefall of the Nepali rupee against the US dollar with hearts pounding, but the tourism industry is brimming with anticipation for a bumper season.
With the exchange rate going in favour of foreign visitors, tourists get Rs 109 for US$ 1.
The rate, if compared to the same period last year, means a 20 percent bonus to foreign visitors to the Himalayan nation.
Travel trade entrepreneurs said that tourists would get more bang for the buck and expected higher numbers this tourist season that normally starts from mid September.
The autumn-September to November-is the peak tourist season which offers highly pleasant weather for trekking and mountain views. Nepal sees 30-40 percent of the total tourist arrivals during the autumn season.
"A stronger US dollar means an increase in visitors' purchasing power. And this in turn will attract more tourists to Nepal, which has become one of the cheapest destinations for travellers," said Hari Sarmah, chief executive officer of the Nepal Association of Tour and Travel Agents.
The exchange rate was Rs 89 to the dollar during the same period last year. "The impact will also be visible on the country's foreign exchange reserves." According to Nepal Rastra Bank's statistics, foreign exchange earnings from the travel trade sector jumped 11.4 percent to Rs 34.21 billion in the last fiscal year.
Shibesh Shrestha, managing director of C & K Nepal Travel and Tours, said that the appreciation of the dollar would not benefit travellers much who have already booked their trips for this season.
"However, it will be a boon for free independent travellers and backpackers," Shrestha said, adding that there would be a big surge in the number of independent travellers this season.
Market watchers say it is high time to attract tourist from neighbouring countries as they are now looking for shorter trips and destinations which they can afford.
AIRLINE WOES
With the onset of the tourist season, airline connectivity is likely to be a major setback. The request of the Civil Aviation Authority of Nepal (CAAN) to all international airlines flying wide-body aircraft to Kathmandu airport to restrict their take-off and landing weight is likely to be a big setback during the peak season.
CAAN has issued a request letter to international airlines to restrict their payload to 196 tonnes until Sept 30 to prevent damage to the runway of the country's sole international airport.
This provision means, for example, Thai Airways which flies Boeing 777 aircraft has to offload almost 100 passengers from its aircraft to meet the aviation regulator's obligation. "And the payload restriction request has come when the airlines' major business season is almost at hand," said Shyam Raj Thapaliya, managing director of Osho World Travel Nepal.
CAAN has said that it has entrusted a Spanish company to prepare a runway evaluation study report by the end of Sept, and based on the report, further decisions will be taken to fix the runway problem permanently.
Airlines and the travel trade sector wonder what further decision CAAN will take after the Spanish company submits its report. "An unexpected decision, if imposed, will have its impact on airline revenue and seat capacity this season," Thapaliya said.
COSTLY OUTBOUND
According to tour operators, the strength of the dollar has made travellers, particularly Asians, to think twice about visiting destinations like Europe and the Americas.
Suraj Vaidya, president of the Federation of Nepalese Chambers of Commerce and Industry, said it was high time Nepal launched promotional packages in India and China.
"Due to the strength of the dollar, they will not prefer to travel to Europe and other long haul destinations," he said, adding that the devaluation of the Nepali rupee would help tourism considerably if it was realized immediately.
Tourism entrepreneurs said that longhaul travel is getting converted into short haul overnight, and it will benefit destinations who offer the cheapest rates.