Nepal Telecom offers free Wi-Fi for a month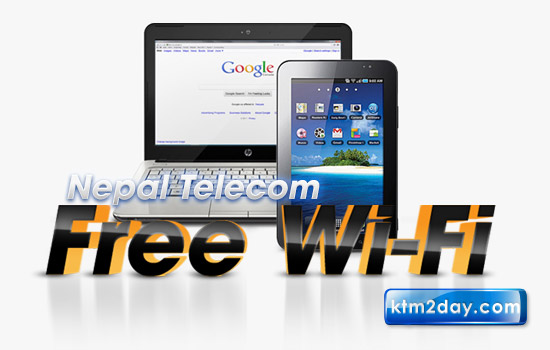 Nepal Telecom (NT) which has been offering free Wi-Fi Internet service based on Worldwide Interoperability for Microwave Access (WiMAX) technology in different places will be charging Rs 10 per hour from next month.
According to NT, it will be launching the service commercially from next month and for now it is providing the password for free. Customers need to type Wifi and SMS it to 1416 in the Wi-Fi hotspot area and they will get a password.
Customers will have to then connect to NTWIMAX in their Wi-Fi settings and then open the internet browser. They will then have to put in their mobile number as user name and the password received to enjoy internet for an hour at a speed of up to 512 Kbps.
"We have installed equipment in 21 places in the Valley and the router is being configured now. Though we are yet to launch the commercial service, customers can SMS to 1416 from the hotspot region and get the user name and password for free now as we are testing the quality of the service and receiving the feedback," said Lochan Lal Amatya, project manager of WiMAX, adding that the customers will be charged Rs 10 per hour from next month.
Currently, NT is providing Wi-Fi service free of cost at 21 different places like Tribhuwan International Airport (both domestic and international terminals), Bir Hospital, Tribhuwan University Teaching Hospital, Shahid Gangalal National Heart Centre, Basantapur, Patan and Bhaktapur Durbar Square and different offices of NT. NT will soon be providing the service at 30 places in the Valley.
According to NT customers can use Wi-Fi even without the password in many places for free as the router installation work is going on. However, customers will have to compulsorily get the password to use it even for free in all the hotspot areas by the end of coming week.
NT will publish advertisement next week and inform about the places where the customers can use Wi-Fi. "In the first phase NT will be launching the paid service in those places only. However, later we will be introducing it in shopping malls and even Dashrath Stadium," said Munesh Gupta, system administrator of WiMAX.
Gupta Further told Republica that the service which is targeted towards NT GSM pre-paid and post paid customers in the first phase will soon be made available to the subscribers of other telecom operators as well.
The Wi-Fi service will be available in the range of 100 to 150 meters from the hotspots depending on the access point (AP).
NT is also launching the service outside the Valley soon. "We are fixing the equipments in 80 different places outside the Valley and for this we have already signed an agreement with house owners. We will be reaching to all major cities very soon," said Amatya.