Energy-efficient products to beat load-shedding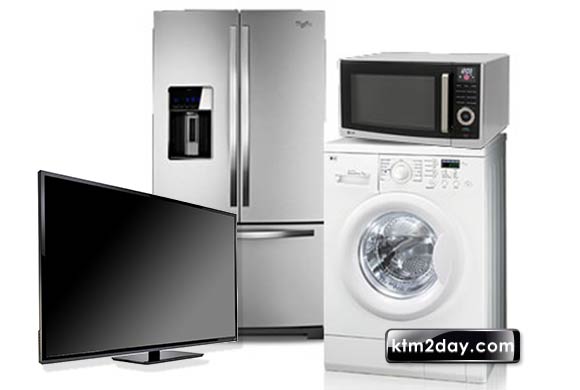 Nepali consumers have been turning to energy-efficient electronic products as the country continues to reel under extended power outages. Local distributors of various electronic brands said that demand for energy saving electronic products had taken off in recent times. Him Electronics, the authorised distributor of Samsung home appliances in Nepal, said that more than 70 percent of the refrigerators it has been selling in the domestic market have a five-star energy rating.
"Since the country is facing long hours of power cuts, it is very difficult for households to keep food products frozen for 24 hours a day," said Ganesh Raj Pandey, deputy sales manager of the company. "So, we have launched a wide range of energy-efficient refrigerators," he said.
The company claims that refrigerators with a five-star rating use 35-40 percent less energy. "As they are equipped with a Digital Inverter Compressor, they consume less power than other products with a normal compressor," he said. These fridges cost from Rs 43,990 to Rs 51,990.
Likewise, Him Electronics offers washing machines fitted with a Digital Inverter Motor which consume less power. The company claimed that these machines also produce less noise and are more durable than traditional washing machines.
Pandey said that 50 percent of the washing machines they sell have Digital Inverter Motors. Pandey added that the company also offers microwave ovens and LED televisions which consume less power. Microwave ovens with a Triple Distribution System reduce wastage of microwaves and so they use less energy and cook food faster," he added.
Meanwhile, LG, one of the top selling consumer durable brands in the country, recently launched a campaign to increase awareness about the benefits of using energy-efficient consumer electronics.
"We launched a 'save electricity' campaign with the prime objective of promoting sales and use of LG's LED televisions to minimize the high amount of electricity consumed by CRT televisions," said Niraj Baniya, product manager at CG Electronics, the authorised distributor of LG Electronics in Nepal. "LED televisions use 70 percent less electricity compared to CRT televisions."
The company also sells a wide range of power-saving refrigerators with Power Cut Evercool Technology which the company claims can keep food fresh for around 7 hours during load-shedding. "People can switch off the refrigerator in the night and save on their electricity bills," he added. Prices of single-door refrigerators with this technology start at Rs 27,000 in the domestic market.
Similarly, Sony offers LED televisions that it says are not only energy efficient but also eco friendly. Subash Shrestha, manager of sales and marketing at Nepa Hima Trade Link, the authorised distributor of Sony in Nepal, said that they had launched a wide range of energy efficient TVs to help cut energy consumption and save on electricity bills.
The company offers energy-saving packages on two new models in the R series. Customers will get a free battery on purchase of a KLV32R402 or KLV24R402 television. These TV sets come in 32-in and 24-in models, costing Rs 60,000 and Rs 40,000 respectively.