Bhutan Airlines starts flights to Kathmandu from today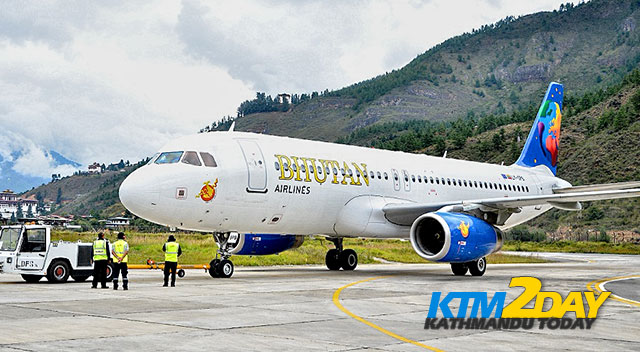 Bhutan's first private carrier Bhutan Airlines will be starting its Paro-Kathmandu service on Saturday ending the monopoly of Bhutan's national flag carrier Druk Air on the sector.
Also known as Tashi Air, the Bhutanese airline will be operating two flights weekly on the Paro-Kathmandu-Paro route. It plans to increase the frequency in the near future.
Rabi Chandra Singh, chairman of Society Travel, the general sales agent of Bhutan Airlines, said that the carrier would be conducting two flights weekly until August. After that, Bhutan Airlines will operate Paro-Kathmandu-Delhi-Paro flights with increased frequency, he said.
Kathmandu is its third international destination after Bangkok and Kolkata. Tashi Air, a subsidiary of the Tashi Group, was launched on Dec 4, 2011. It made its first international flights to India and Thailand on Oct 10, 2013.
According to Society Travel, the carrier has introduced surprisingly competitive fares in the market.
"As Bhutan is gradually opening up its tourism capacity, the carrier plans to target European and Chinese tourists seeking a Bhutan extension from Nepal," Singh said.
Bhutan has successfully promoted itself as an exclusive long-stay destination for tourists with average spending of around $ 330 per day and an average stay of eight days. On May 17, Nepal and Bhutan revised their bilateral air services agreement (ASA), increasing the number of flights between the two countries three-fold.
The two countries agreed to increase the passenger flight frequency to 21 per week with any type of aircraft whether owned or leased. The ASA signed in February 2004 allowed seven weekly flights.
The revised ASA has accepted the multiple designation system, under which there won't be any restriction on any carrier of the two countries to fly to each other's destinations.
Earlier, the single designation system had permitted only Druk Air to operate flights to Kathmandu, while Nepali private carrier Buddha Air was enjoying the same rights in Bhutan.