Cereals and legumes top adulterated foods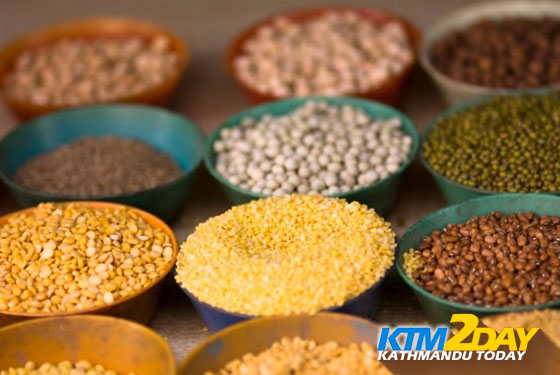 Cereals and legumes along with their products were found to be the most unhygienic food products sold in the market with the highest number of cases being filed against their manufacturers and sellers by the Department of Food Technology and Quality Control (DFTQC) in fiscal year 2013-14.
The department began legal proceedings against the producers and traders of a total of 279 products last year with cereals and legumes accounting for 24 percent of the cases. The second and third highest number of cases, 19 and 14 percent of the total respectively, were related to fats and oils and bottled drinking water, said the department.
DFTQC Director General Jiwan Prava Lama said they filed the cases at the district administration offices of the districts concerned Lama added that a large number of samples of food grain, mainly rice and pulses along with their products, were found to be substandard or adulterated. According to her, the pulses had been adulterated with grass pea popularly known as "keshari dal".
Similarly, the department found that excessive colour had been used to prepare "bhujia", a crispy snack made of gram flour. A number of noodle brands were found to be using acid insoluble ash in excess of the standard prescribed by the DFTQC.
The DFTQC also found high adulteration in a large number of samples of fats and oil. "They were found to have not maintained the department's parameters set for the products," said Lama, adding that a greater number of problems were being found in the products made by small dairies.
Likewise, the department found several brands of bottled water to be contaminated with coliform bacteria and acidic elements. "Moreover, a number of bottling plants had not been following proper sanitation rules."
Dairy products, soft drinks, spices, sweets and confections, tea and coffee, meat and meat products and fruits and vegetables were among the highly contaminated products.
The DFTQC checked 3,072 samples from different factories and shops. Similarly, it inspected 276 eateries operating on the highways among which 65 were found to be selling poor quality foods.
The DFTQC recently installed a dedicated feeder line at its Central Food Research Laboratory to provide uninterrupted electricity which is expected to improve the efficiency of the food testing process.
Speaking at a programme on Tuesday, Lama said that it used to take up to three days to test a food sample due to load-shedding. "The feeder supply will allow us to test the samples more effectively in a short period of time," she added.