Nepal Airlines to train own instructor pilot for it's new fleet of Chinese aircraft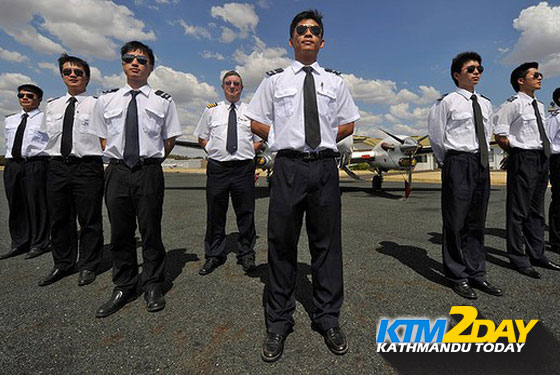 Nepal Airlines Corporation (NAC) has decided to train its own instructor pilot to bring its newly gifted Y12e aircraft from China as the manufacturer has said it will not be able to provide an English-speaking trainer pilot.
The state-owned carrier said that a senior captain would be sent to the US to receive training next week. The delay will push back the delivery of the plane by a month. It was originally scheduled to arrive in Nepal on July 25.
"As the aircraft supplier AVIC International Holding Corporation has formally informed us that it would not be able to provide an instructor pilot with Level 4 English proficiency, we have decided to train our own pilots to be instructors," said NAC's Managing Director Madan Kharel.
According to him, the NAC pilot will receive a week's training in the US before going to the aircraft factory at Harbin for another session of seven to eight days. "After completing the training, the NAC pilot will fly the aircraft to Nepal and will teach other pilots." The flight instructors will give hands-on training to Nepali pilots who have already received full flight simulator training in China.
AVIC had told NAC that it was searching for English speaking pilots in other countries where the Y12 was in service but said later that no one could be found.
As per the International Civil Aviation Organization (Icao), all pilots flying international routes must have a minimum level of English to communicate with air traffic controllers regularly. This level of English proficiency is known as ICAO Operational Level 4. The English language proficiency scale ranges from Levels 1 to 6.
NAC took delivery of the plane, part of a six-aircraft deal between Nepal and China, from AVIC in Harbin, China on July 8. The 17-seater twin-engine turboprop utility plane is a gift from China to Nepal.
NAC has six Chinese aircraft on order-two MA60 manufactured by Xi'an Aircraft Industrial Corporation and four Y12e manufactured by Harbin Aircraft. Of these six aircraft, an MA60 and an Y12e are gifts. The first of the MA60 has been delivered and is operating on various routes.
At that time too, language problems had delayed the aircraft from going into service. The trainer pilots sent by the plane manufacturer could not speak English, and another team had to be sent. The Y-12e is powered by PT6A-135A engines. It received Type Certification from the Civil Aviation Administration of China in 2002.
The aircraft made its first flight in August 2001. This version was certified by the US Federal Aviation Administration on Aug 2, 2006. Experts said that the Y12e would be a fitting alternative to the Twin Otter, a Canadian-built aircraft which has been the mainstay on domestic routes for the past four decades.