Gionee smartphones to launch in September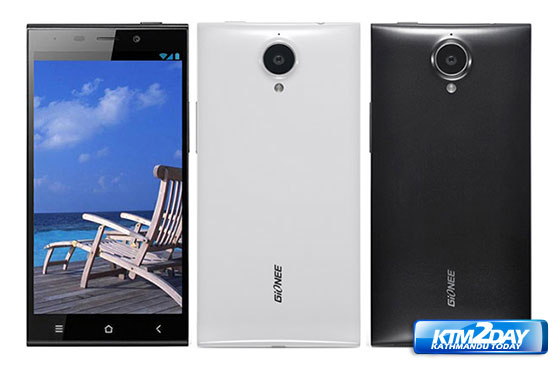 Chinese smartphone Gionee is all set to enter the Nepali market. The manufacturer Gionee Communication Equipment Co has signed an agreement with Teletalk Nepal to sell the smartphones in the domestic market, and they are expected to be available by the first week of September.
Teletalk will look after sales and service in the domestic market and has planned to launch five smartphones including the Elife S 5.5 and two feature phones for starters.
Gionee's Sales Manager Wyn Gionee and Teletalk's Managing Director Rohit Gupta signed an agreement amid a press meet here on Tuesday. Gionee said they were entering the Nepali market by offering their products at competitive prices.
"We are expanding our market all over the world, and we are especially focusing on the Asian market as the number of smartphone users is growing rapidly in this region," said Gionee. "The brand has been doing very well in India, and we hope it will do the same in the Nepali market." He added that they would focus on strong distribution channels and brand presence all across the country to penetrate the market.
Established in 2002, Gionee sells a wide range of smartphones in 40 countries including India, Europe, Latin America, Africa and the Middle East.
The Gionee Elife E7 is one of its best selling smartphones in India and other markets. It has been marketed as one of the slimmest smartphones in the world. It is 5.5 mm thick and is powered by a 2.2 GHz quad core processor. It comes with 3 GB of RAM. "Own design, manufacturing and R&D are the strengths of Gionee," said Gionee. The Gionee brand also has its own extensively developed software Amigo based on the Android platform.
Similarly, Gupta said they were upbeat about the sales of Gionee smartphones in the domestic market. "By providing better sales and after sales service, we aim to become the market leader in Nepal," said Gupta. He added that they were targeting high-end buyers, especially focusing on smartphones costing Rs 10,000 to Rs 50,000.
"The Nepali people are changing the way they look at Chinese smartphones," he said. Teletalk has 37 services centres in the country.