Etihad Airways wins 2015 airline of the year award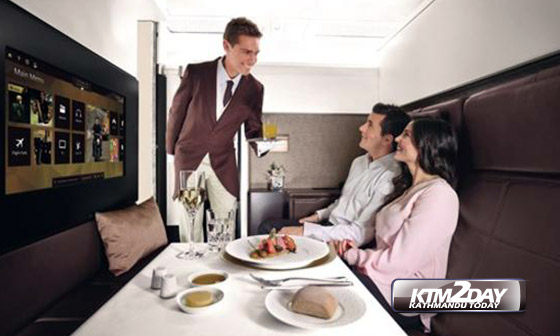 Etihad Airways has been presented with the 2015 Airline of the Year award by leading IFEC and cabin technology magazine Inflight, published by HMG Aerospace. The Inflight awards ceremony took place at the Aircraft Interiors Middle East expo held in Dubai this week.
The awards are judged by an independent panel of industry experts against a set criteria. Etihad Airways won the award based on the high levels of service, cabin technology and innovation provided to its guests on all its flights.
Rebecca Howells, Commercial and Events Director at HMG Aerospace said: "Innovation, service and technology are the criteria we judge this award on and Etihad Airways is undoubtedly a worthy recipient. Over the past year, no other airline has made as much news as Etihad Airways. Launching new cabin products which have revolutionised air travel has come with a requirement to up the ante with the most advanced entertainment systems and in-flight connectivity, providing a template for what modern air travel should be."
Etihad Airways has introduced its latest enhanced E-BOX personal entertainment offering using the Panasonic eX3 interactive system, and is the first airline to install the cutting-edge IFE system on an Airbus A380. All A380s and Boeing 787s in the fleet will be equipped with Panasonic eX3. The system provides hundreds of hours of on-demand entertainment, improved gaming, shopping and entertainment solutions, 3D moving maps, an Aeroreader document viewer, a new Graphical User Interface (GUI) dedicated to our younger guests and high definition screens across all cabins.
The system has video touchscreen handsets, offering each guest in all cabins an additional screen for guests to maximize their entertainment, so they can play games or view the moving map while watching a movie. Guests travelling together can make use of a unique video share feature which allows them to view programming simultaneously and audio filtering which gives the guest the ability to filter audio options by preferred genre.
Noise cancelling headsets are also provided in all cabins, and the airline is the first in the world to feature built-in magnetic audio jacks for all guests, to ensure the best sound quality and ease of use.
A380 aircraft will be equipped with full mobile and Wi-Fi services while the B787 is equipped with Wi-Fi, with a 3G mobile solution expected in the second half of 2015.
Next month, Etihad Airways will become one of the few airlines in the world to offer fleet-wide inflight connectivity services through its Etihad Wi-Fly solution. The airline also announced this week that it witnessed a dramatic surge in internet and mobile phone usage in 2014.
Etihad Airways' connected fleet comprises 92 passenger aircraft including 29 Airbus A319/320/321s, 26 A330s, 11 A340s, one A380, 24 Boeing 777 family aircraft and the first B787-9 Dreamliner. All future aircraft scheduled for delivery through 2015 will also be equipped with in-flight connectivity.
The airline's Live TV service is available on 43 wide-body aircraft, bringing quality content from seven television channels including BBC World News, Sport 24 and CNN, the top three most viewed channels, and CNBC, euronews, Japan's NHK World Premium, and Sky News Arabia.
Published bi-monthly, Inflight is a leading publication of independent news and analysis of the IFE/connectivity and cabin technology industry, providing readers with the information necessary to make decisions on the selection of products and services, including design and implementation of new offerings in the cabin for commercial and business aircraft.