Tourism rebounds in Khumbu Region after earthquake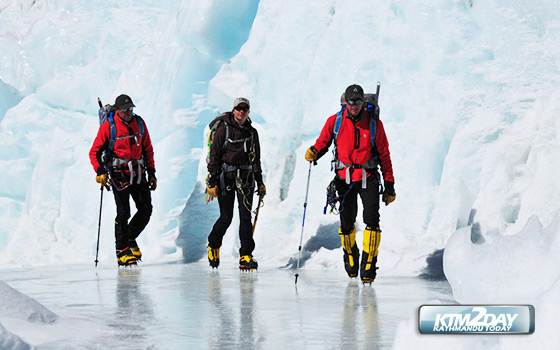 Tourism activities have started to pick up pace in the Khumbu region after encountering a slowdown after the devastating April 25 earthquake.
The arrival of tourists in September has given respite to tourism entrepreneurs who have been going through bad times since the disaster.
"The flow of tourists is better than what we had anticipated," said Napang Sherpa, president of Hotel Association Namche. "We are encouraged by the response." The flow of tourists increases in the Khumbu region during two seasons.
The September season is popular among trekkers while the April season is the favourite of mountaineers.After mountaineering expeditions were cancelled during the past two seasons in a row due to accidents, the tourism business in the region had witnessed a huge setback.
"We are hopeful that the tourists who have come here will take a positive message back home and encourage people to visit Nepal," said Dawaphuti Sherpa, operator of the Hotel Paradise Lukla.Roads in the Khumbu region that were damaged by the earthquake are presently being reconstructed.
"We will complete the reconstruction work soon," said Jimba Jangbu Sherpa, former president of the Mountaineering Association Nepal.
"This will make it easier for climbers to visit the area."There are presently five to 10 foreign guests staying at hotels in the Khumbu region.
According to Napang Sherpa, around 250 tourists visit the Khumbu region on a daily basis.
"The number used to be around 500 daily during the same period last year."
In August this year, 162 foreigners had visited Khumbu region. The number increased to around 1,500 to 1,800 in September Aang Tendi Sherpa, vice-president of Hike For Nepal, who has just returned from Everest base camp, said that the foreigners accompanying him were happy.
"They said that it wasn't dangerous to reach the base camp as they though it would be," Tendi said.
"These tourists will definitely spread a positive message."With the situation getting better, Lukla airport has started witnessing 20-25 flights per day. Of the total, four to five flights are occupied by foreigners.
The rest of the flights carry locals and cargo. Lukla airport used to see 45-50 flights daily during the peak tourist season.
Entrepreneurs in Khumbu said the unrest in the Tarai plains in the country's south had affected tourist arrivals. Some of the potential travellers had cancelled their trips to Nepal due to false publicity that they wouldn't get food and other necessities.