David Beckham arrives in Kathmandu, Nepal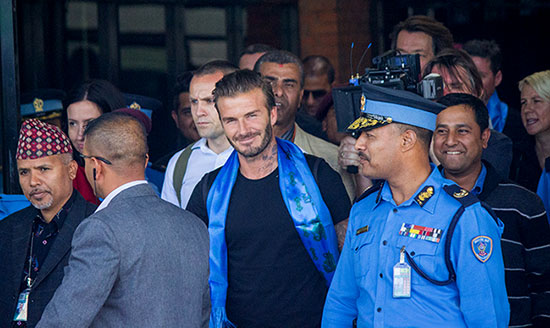 Former England international footballer David Beckham has arrived here in Nepal on Friday morning to play a charity match –Beckham Match for Children — in aid of United Nations Children's Fund (UNICEF) and for the shooting of a documentary commissioned by BBC.
Boarding a chartered flight from Papua New Guinea, Beckham, who is a UNICEF Goodwill Ambassador, touched down at the Tribhuvan International Airport at around 10:55 am this morning.
The 40-year-old is scheduled to visit Bhaktapur Durbar Square and play a token match with school children at Taumadi.
The BBC documentary David Beckham: For the Love of the Game would be shot there.
The charity series includes seven matches– one match each in seven continents. Besides in Nepal and Papua New Guinea, other matches would be played Buenos Aires of Argentina, Djibouti, Miami and Antarctica and Great Britain.
Beckham is scheduled to leave Nepal tomorrow.
The 7: The David Beckham UNICEF Fund that he launched earlier this year is collecting funds to support UNICEF's life-changing programmes for children across the globe.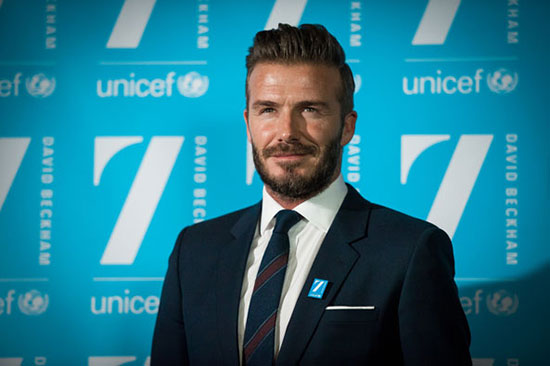 The last match of the charity series would be played at Old Trafford on November 14. Beckham would captain a Great Britain and Ireland star line-up – featuring a host of Manchested United legends – against a Rest of the World team led by Zinedine Zidane, with players including Cafu, Luis Figo and Ronaldinho, according to UNICEF.
In Papua New Guinea, Beckham had visited a hospital and met children receiving treatment for malnutrition yesterday.
According to the BBC, the documentary showcases a rich and varied tapestry of characters, all linked together by one game, seeking to discover what the game means across the globe and whether it still has the power to transform lives as it did for Beckham.
"I remember sitting on a plane and discussing this idea with friends, and never thinking it would become a reality. I'm genuinely excited now we can realise this ambitious idea," Beckham had said, before setting off for the seven-match global football tour.
"Whether as a player or out in the field for UNICEF and other charitable partners, I have seen the transformational effect that sport, and in particular football, has on people's lives."
"This epic journey will allow me to show the positive side of the game I love and shine a light on the passion and selflessness of people that play this sport as a force for good."