Ncell sold for $1.365 billion to Axiata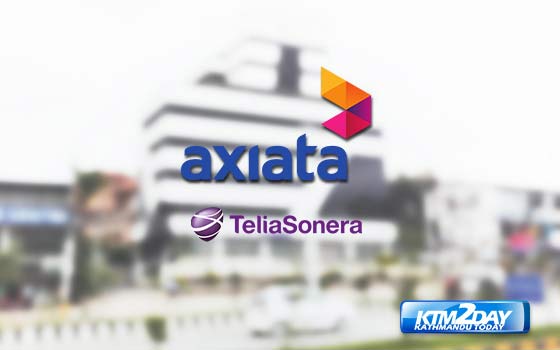 In the biggest ever corporate deal in Nepal's history, Malaysia-based Axiata has agreed to acquire 80 per cent stake in Ncell, the country's largest private cell phone service provider, for $1.365 billion (Rs 145.40 billion at today's exchange rate of Rs 106.52 per dollar).
Axiata Group Berhad (Axiata), through its wholly-owned subsidiary, Axiata Investments (UK) Limited, today entered into a 'conditional sale and purchase agreement' in this regard with TeliaSonera UTA Holdings BV and SEA Telecom Investments BV, says a statement issued by Axiata.
Axiata, one of the largest Asian telecommunications groups, has over 260 million customers and 25,000 employees in Malaysia, Indonesia, Sri Lanka, Bangladesh, Cambodia, India, Singapore and Pakistan. It is listed on Malaysian stock market with market capitalisation of $12.4 billion.
"The scarcity of a controlling stake and very sizeable, high-quality assets within our target region with a strong number one market leadership position, makes Ncell a rare opportunistic asset to come by," the statement quotes Jamaludin Ibrahim, president and group CEO of Axiata, as saying.
"The new asset would… contribute approximately nine per cent to revenue and 19 per cent to PATAMI (Profit after Tax and Minority Interests), and would make it one of the highest contributors to earnings for the group."
The deal is subject to approval from the Department of Industries in Nepal, Nepal Telecommunications Authority, the telecom sector regulator, Malaysian central bank and Axiata's shareholders.
The biggest chunk of shares in Ncell 60.4 per cent is owned by TeliaSonera, a telecommunications service provider in the Nordic and Baltic countries, Eurasia and Spain.
Another 19.6 per cent stake in the company is owned by Visor (via SEA Telecom Investments BV) and 20 per cent stake is controlled by Niraj Shrestha, a Nepali citizen, who was chosen by TeliaSonera as its local partner.
TeliaSonera is selling its stake in Ncell for $1.03 billion, while shares of SEA Telecom will be sold for $335 million.
Also, Shrestha will sell his shares in Ncell to Bhavana Singh Shrestha Axiata's chosen local partner as per the domestic law that requires Nepali citizens to hold at least 20 per cent stake in a company.
Once the deal between Niraj and Bhavana closes, all arrangements between TeliaSonera and Niraj, which were entered into in 2012, will lapse, says a TeliaSonera statement, adding that TeliaSonera will receive approximately $48 million from Bhavana's company, Sunivera Capital Ventures, upon closure of the deal.
"The amount is being paid because Niraj had acquired a loan of $230 million from TeliaSonera in 2012 on the back of his 20 per cent stake in Ncell," Salomon Bekele, senior advisor at CEO's Office of TeliaSonera told journalists in Kathmandu today.
TeliaSonera has also said that Bhavana's family members, who have interest in Smart Telecom, will divest their shares in the company prior to acquiring the stake in Ncell.
This is because the regulator here prohibits crossholding of shares in telecom companies.
Although Ncell is profitable venture for TeliaSonera, it is selling its stake in the company here as per its plan announced in September to reduce its presence in seven Eurasian markets and focus on operations in the Nordics and Baltics.
The deal will generate net cash effect of 7.5 billion Swedish Krona (approximately Rs 91.57 billion) for TeliaSonera, says the TeliaSonera statement. TeliaSonera will use this money to reduce its debt.
Ncell CEO Erim Taylanlar said, "From an Ncell point of view nothing will change in priority of serving our customers (even after today's deal). We will continue to invest in the network and future of Nepal."