Rise in number of mobile phone users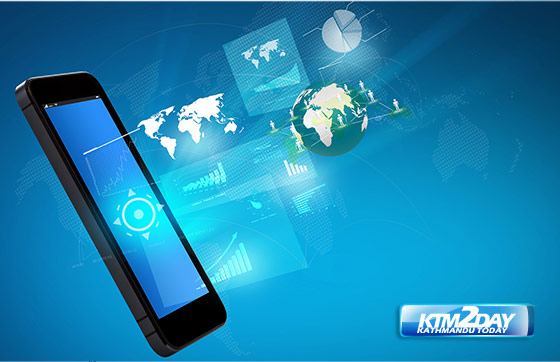 Number of mobile phone users is growing rapidly in Nepal. Latest Management Information System (MIS) report of Nepal Telecommunications Authority (NTA) shows mobile penetration reached 102.18 percent by mid-October.
With the rise in number of mobile phone users, people browsing Internet though mobile data is also increasing leading to drop in market share of Internet Service Providers (ISPs).
Mobile penetration is rapidly increasing throughout the globe. South Asian Association for Regional Cooperation (SAARC) region will have an estimated 1.3 billion active mobile subscribers by 2018, according to Dataxis – a global firm specialized in telecom, television and media business.
In Nepal, number of mobile subscribers reached 27.07 million, including 1.2 million CDMA mobile users. Nepal Telecom had 13.3 million subscribers, while Ncell has 13.1 million users as at mid-October 2015, according to the report.
With the increase in number of smartphone users internet penetration has also increased massively.
INTERNET PENETRATION RISES SEVEN TIMES
Between 2000 and 2015, Internet penetration increased by almost seven times, from 6.5 to 43 percent of the global population, according to International Telecommunication Union (ITU).
In Nepal, internet penetration has reached 44.89 percent of the total population as per the NTA's report of mid October. The number of Internet users in Nepal has increased exponentially in the past two decades — from less than 50 users in 1995 to 11.89 million users in mid-October 2015. The number started growing at an unprecedented rate due to growing popularity of social media platforms like Facebook and Twitter, according to Information and Communication Technology (ICT) experts.
There are many people who use Internet only to access social networking sites.
"Earlier, it was really expensive and difficult to make calls. Now with the use of mobile apps like Whatsapp and Viber, our lives has become easier while communication has become cheaper and faster," Amit Agrawal, CEO of Janaki Technology, said
Affordability is the major factor behind growth of mobile phone as well as Internet users across the globe.
MOBILE INTERNET USERS GROWING
ITU report states that mobile broadband is the most dynamic market segment, with mobile-broadband penetration globally reaching 47 per cent in 2015, a value that has increased 12-fold since 2007.
In Nepal, 95 percent of the total Internet users use 2G or 3G mobile data services, according to NTA.
FIXED-BROADBAND UPTAKE GROWING AT A SLOWER PACE
Fixed-broadband up-take is growing at a slower pace with a seven percent annual increase over the past three years, globally as per ITU's report. "While the prices of fixed-broadband services dropped sharply between 2008 and 2011 in developing countries, they have been stagnating since then and even increased slightly in least developed countries," the report adds.
In Nepal, market share of broadband Internet service providers' stood at a meager 1.09 percent as of mid October 2015 compared to 3 percent in mid-October 2010.