DDC introduces tea milk and milk whitener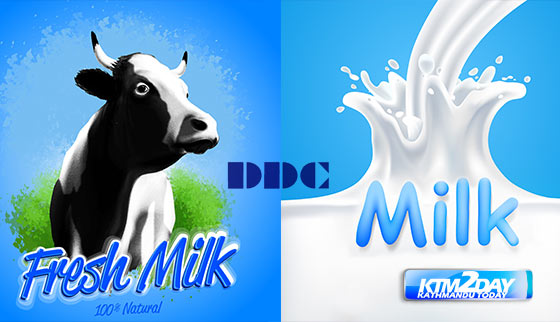 Dairy Development Corporation (DDC) said on Thursday that it would be launching three new products—packaged tea milk, milk whitener and fodder—from the next fiscal year in a bid to boost its market presence and mitigate the risk of milk holidays.
The state-owned dairy has finished preparations to begin quality fodder production. It will be using the infrastructure of the defunct Animal Feed Production Development Committee in Hetauda.
"With this move, we plan to increase the total quantity of milk collection around the country and enhance the existing supply chain relationship with over 200,000 dairy farmers," said Ishwari Prasad Adhikari, assistant general manager of DDC.
"We will provide the fodder at a uniform price of Rs34 per kg throughout the country," he said. DDC has produced 70 tonnes of animal feed and conducted quality tests. "The fodder meets all the standards specified by the government."
Providing quality food for animals will benefit farmers and reduce the recurring problem of raw material shortages, said Adhikari.
DDC collects 80 million litres of milk from 44 districts annually. Around 200,000 farmers are associated with DDC through 1,200 milk cooperatives. The corporation sells around 180,000 litres of processed milk daily.
"DDC has initiated measures to help farmers in rural areas by providing them fair returns for their investment and ensure a good market for milk and other products," said Ganga Timsina, director general of DDC. "We have also planned to upgrade the capacity of our plants to mitigate the risk of milk holidays."
The corporation's planned new product, tea milk, is targeted at a special segment—tea vendors. It will contain 1.5 percent fat and 9.5 percent milk solids. Also called serum solids, it contains lactose and caseins. DDC's other packaged milk contains 3 percent fat and 8 percent serum.
Tea milk will be priced at Rs64 per litre. DDC said that it will be enough to make two more cups of tea compared to other milks.
Meanwhile, DDC has been mulling ramping up its present production capacity of 180,000 litres daily by 50,000 litres. It plans to increase the capacity of its production plant in Biratnagar besides establishing an ultra high temperature plant in Butwal.
The production capacities of its factories in Nepalgunj and Attariya will be increased too. The Biratnagar plant will also start producing milk whitener from the next fiscal year, DDC officials said.
According to the Nepal Dairy Association, more than 20,000 Nepali are employed in the dairy sector which is worth around Rs15 billion. Nepal produces 4.8 million litres of milk daily. Large and small dairies consume 15 and 35 percent of the total output respectively. Farmers consume the rest.