Ncell 4G service launched in Nepal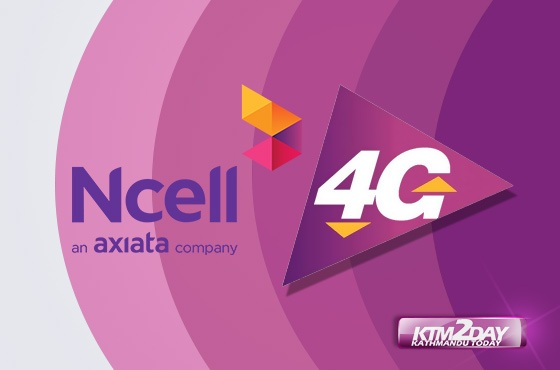 Ncell has said that its customers with 4G compatible handset can now experience fourth generation (4G) technology.
Issuing a statement, the GSM operator said that its subscribers in Kathmandu, Nagarkot, Banepa and Dhulikhel can enjoy 4G service. "The 4G service has been launched in line with the technology neutrality permission, which paved the way for the company to deliver customers what they long-deserved," Ncell said in a statement.
Ncell is also planning to test 4G service in 40 other cities with a target of providing 4G service to 15 percent population of the country by the end of 2017, according to the statement.
"We are excited about all great impact that 4G/LTE is set to bring to the people and the country. We remain committed to make the best of this award to contribute to achieve the national goal of Digital Nepal," Simon Perkins, managing director of Ncell, said in the statement.
According to the company, subscribers can replace their existing SIM card with 4G compatible USIM from the nearest Ncell centre to use the service. The customers can replace the SIM card for free from the Ncell Centres. The company is also providing 1 GB data with validity of three days to its customers for free to celebrate the launch of 4G service.
Ncell has been providing cellular mobile services to more than 15 million customers and data service to more than 6 million customers all over the country, according to the statement.
What can you do with Ncell 4G?
Use internet to access rich content and multimedia applications such as movies, HD videos and content, E-learning, and more.
Upload and download at higher speeds.
Seamless online streaming, high definition online gaming and seamless video chat.
Access business applications that require higher speeds and last mile connectivity.
What speed ranges (minimum-maximum) can you expect under Ncell 4G network?
Download Speeds : 10 Mbps to 37 Mbps
Upload Speeds : 3 Mbps to 18 Mbps
Is 4G expensive than 3G/2G?
No, tariffs are same and independent of whether 4G, 3G or 2G networks. Your bill will depend as per your usage. 4G speed is faster and hence, you can browse more data within specific time.
Do I need a new SIM or number for Ncell 4G?
You can use the same number either Prepaid or Postpaid but your SIM has to support 4G which is called USIM. If your SIM is not USIM, please visit nearest Ncell center and replace your SIM for free. Additionally, you will get 1 GB with 1 day validity for free.
You can check your SIM card. If it has new Ncell Axiata logo (Kite) then it is USIM that supports 4G.
Alternatively, Type Q and SMS to 324 to know if you have a 4G supported SIM card.